John Singleton sues Paramount over Hustle and Flow deal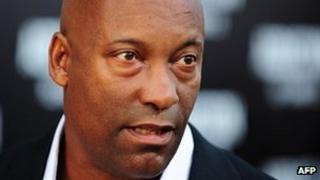 John Singleton is taking legal action against Paramount Pictures over claims it reneged on an agreement made over the 2005 film Hustle and Flow.
The Hollywood director sold the movie to Paramount because the studio agreed to finance two future films of his choice, the Los Angeles Times reports.
Singleton, who produced the film, told the paper Paramount "kept thwarting my efforts to make any of the movies".
A Paramount spokesperson said the agreement came to an end in 2010.
Hustle and Flow, starring Terrence Howard as a drug dealer who embarks on a musical career, was a big hit at the Sundance Film Festival and went on to win an Oscar for best song.
"I'd always had a great relationship with Paramount, going back to being an intern on the lot when I was at USC," Singleton said.
"But a deal's a deal and they didn't honour the deal.
"I could have sold Hustle and Flow for more money to someone else, but Paramount promised something special - giving me the ability to make two low-budget films with young filmmakers and great talent.
"All I've ever done is make money for Paramount. I've lived up to all the deals I've signed and it should work both ways."
Singleton said he tried several times to pitch "a number of projects" to the studio but they were all rejected.
In a statement, Paramount said it had "fulfilled all of its obligations" and that Singleton's claims had "absolutely no merit."
Singleton is best known for his groundbreaking 1991 debut film Boyz N' the Hood, for which he was nominated for two Academy Awards.
Since then he has directed Shaft (2000), 2 Fast 2 Furious (2003) and recent release Abduction, starring Taylor Lautner.