BBC plans Just a Minute TV show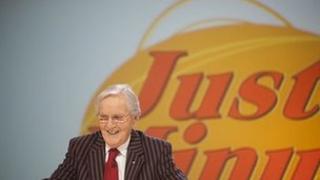 Long-running radio programme Just a Minute is to be broadcast on TV to mark its 45th anniversary, the BBC has announced.
Host Nicholas Parsons, who has fronted the Radio 4 show since it was launched, will also host the BBC Two programme.
It is not the first time the show has been adapted for television.
There were both BBC and ITV versions of the programme, which sees guest panelists try to speak for a minute on a chosen subject, in the 1990s.
The programme also made a brief appearance during David Walliam's 24-hour panel show marathon earlier this year.
"After 45 years of chairing Just a Minute on the radio, I am very excited to be hosting these special celebratory episodes for BBC2," Parsons said.
"I'm sure they will be popular with the show's many fans and hopefully with a few new ones as well."
It is thought regular guests such as Paul Merton will feature on the TV version.
Liam Keelan, controller of BBC Daytime, said: "I know it's something that daytime viewers and fans of the radio series will love to see."