Happy Days cast have court claim rejected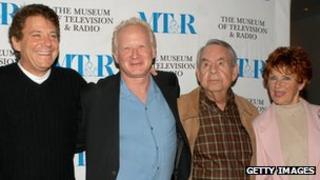 Cast members of the US sitcom Happy Days have suffered a setback in their $10 million (£6.3 million) legal case over unpaid royalties.
A Los Angeles judge has dismissed their claim that TV network CBS committed fraud by not paying them for sales of merchandise based on the hit show.
The cast members, including Don Most - who played Ralph Malph - will continue to pursue CBS for breach of contract.
But they cannot receive damages in response to their case, the judge said.
The actors involved are Marion Ross, Don Most, Anson Williams and Erin Moran, who respectively played the characters Marion Cunningham, Ralph Malph, Potsie, and Joanie Cunningham.
The widow of Tom Bosley, who played Howard Cunningham, is also part of the case.
The breach of contract trial is due to commence in June 2012.
"We are thrilled that the court has thrown out all claims for punitive damages and significantly narrowed this to a case of contract interpretation," said CBS in a statement.
Jon Pfeiffer, a lawyer for the actors, said they had never received revenue statements related to merchandising - including slot machines, trading cards, T-shirts and dolls - and that CBS never intended to pay them.
"We intend to press forward with the lawsuit," he told CNN.
"If we can't punish the defendants, we certainly intend to expose their practices."
Happy Days - which ran for 255 episodes between 1974 and 1984 - was set in the 1950s and 1960s and starred Henry Winkler as Arthur "the Fonz" Fonzarelli.
Neither Winkler nor Ron Howard - who went on to become an Oscar-winning film director - are part of the claim.