Tori Amos musical The Light Princess put on hold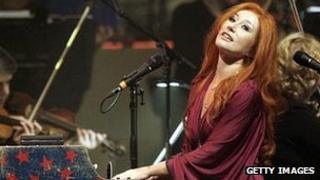 A musical written by singer Tori Amos, due to open at the National Theatre next year, has been put on hold.
The Light Princess, based on George MacDonald's 19th Century fairytale, had been scheduled to premiere at the Lyttelton Theatre in April.
However the show is reportedly being postponed indefinitely over fears it will not be ready in time.
A theatre spokeswoman said work was continuing on the show and new opening dates would be announced in due course.
The keenly anticipated show was first announced in January and was set to be one of the main attractions of the National Theatre's spring season.
Marianne Elliott, who co-directed the National's hit War Horse, had also signed to work on the production.
MacDonald's 1964 fairytale centres around a princess who, after being cursed by a spiteful aunt, defies gravity and floats away unless she is in contact with water or swimming.
The story sees the princess try to master the art of crying so that she may be grounded and marry a prince who has fallen in love with her.
Amos, who has sold more than 12 million albums worldwide, has been working on the musical for several years.
The singer is currently on tour promoting her latest album, Night of Hunters.
Speaking to The Independent in 2008 about why she chose the National Theatre for the project, Amos said: "The National Theatre has been more open-minded than anyone I could have worked with on Broadway.
"But everything has to be approved by committee, and I have to tell you that not everyone is aboard my [Austrian piano manufacturer] Bosendorfer rocket-ship.
"They can pull out and this musical may never be staged."