Catherine Tate to return to the US Office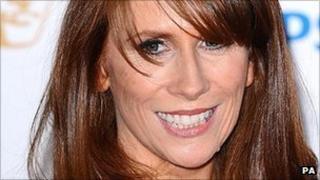 Catherine Tate is to return to the US version of hit sitcom The Office.
The actress was first seen on the show at the end of the last series as one of the candidates hoping to replace outgoing regional manager Michael Scott, played by Steve Carell.
Producers said Tate would reprise her role as Nellie Bertram, a misguided special projects manager.
She will join the show during the second half of the eighth series currently being aired in the US.
The series will see Tate's character hired by friend and chairman of the board Jo Bennett (Kathy Bates) working directly for the corporate office.
"Catherine is hysterical," said executive producer Paul Lieberstein.
"We introduced her briefly in last season's finale and knew she had to be a part of the show somehow. We're thrilled that she's joining the cast."
He added Bertram's relationship with new chief executive officer Robert California - played by James Spader - would be "far from professional".
The US version of the BBC sitcom follows the lives of the workers at Dunder Mifflin Sabre, a paper supply company in Scranton, Pennsylvania.