Paranormal Activity film scares off box office rivals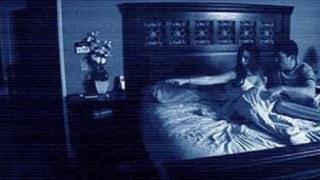 The third film in the Paranormal Activity franchise took $54m (£33.8m) in the US and Canada at the weekend - a record debut for a horror film.
As with its low-budget predecessors, it features a haunted house as well as video camera-style footage.
The film was also the biggest October opening in North American history.
Boxing robot film Real Steel fell to two while Footloose dropped a place to three. 3D film The Three Musketeers was the second highest new entry at four.
Paul Dergarabedian, of box office tracker Hollywood.com, said he had expected Paranormal Activity 3 to come in around the $35m (£21.9m) mark.
"There are certain brands that just transcend any kind of box office rhyme or reason - they just resonate," he said.
"These are shot in someone's house, they look like they're shot with a home video recorder and people just relate to it."
Prequel Paranormal Activity 3 centres around the discovery of disturbing home movie footage shot in 1988.
The first film became a word-of-mouth phenomenon in 2009.
Opening receipts from the latest take on the franchise beat the previous biggest horror debut - its predecessor Paranormal Activity 2 - which took $40.7m (£25.5m) when it opened a year ago.
It also beat the $50.4m (£31.6m) taken by Jackass 3D last year to score the biggest opening for an October release.
Action-adventure film The Three Musketeers, which stars Matthew Macfadyen, Ray Stevenson and Luke Evans, took $8.8m (£5.5m) on its debut weekend.
Other new releases included Johnny English Reborn, starring Rowan Atkinson as the hapless spy, which opened in eighth spot with $3.8m (£2.4m).