Danish actor Mads Mikkelsen awarded for film career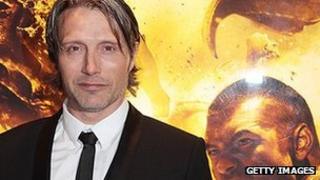 Danish actor Mads Mikkelsen, most widely known for his role in Casino Royale, is to receive a career award from the European Film Academy.
The star, who played villain Le Chiffre in the 007 movie, is being feted for his "unique contribution to film".
The 45-year-old said he would accept the honour with "great humbleness and a big smile".
Mikkelsen will collect his honour at the European Film Awards ceremony in Berlin on 3 December.
The actor added from the set of his latest film: "There is very little to say when you are honoured with an award of this calibre other than that I am deeply grateful."
He called previous recipients of the European Achievement in World Cinema Award "giants". They include Isabelle Huppert, Maurice Jarre and Liv Ullmann.
Mikkelsen made his screen debut in the 1996 Danish film Pusher, and went on to appear in a number of productions made in his home country, including Emmy Award-winning TV show Rejseholdet.
In 2004 he made his US film debut in King Arthur opposite Clive Owen, and also had a role in Clash of the Titans last year.
The actor is appearing in current box office release The Three Musketeers, playing Rochefort.
It has already been announced that British director Stephen Frears will receive the European Film Academy's lifetime achievement award at this year's ceremony.