Oscars TV producer Gil Cates dies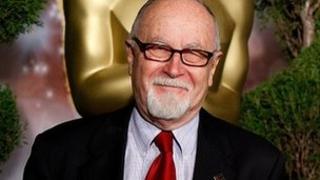 Gilbert 'Gil' Cates, a longtime producer of the Oscars TV ceremony who oversaw a record 14 shows, has died at the age of 77.
He collapsed at UCLA's in Los Angeles campus on Monday. Paramedics were unable to revive him.
Cates' last Oscars were in 2008, when the ceremony was almost called off due to the Hollywood writers' strike.
Former Oscars host Steve Martin tweeted: "He was delightful, wise, canny and unperturbed. A great fellow."
Cates was credited for bringing comedians including Martin, Billy Crystal, Whoopi Goldberg and, controversially, Chris Rock on board as hosts for the ceremony.
Rock was criticised for making disparaging jokes about the annual event prior to his stint.
Tom Sherak, president of the Academy of Motion Picture Arts and Sciences, called Cates a "consummate professional".
In a statement, he said: "His passing is a tremendous loss to the entertainment industry, and our thoughts go out to his family."
Born Gilbert Lewis Katz in New York in 1933, the son of a dressmaker went on to produce and direct films, television programmes and stage productions.
His film credits included Gene Hackman drama I Never Sang For My Father, and on television he directed segments of The Twilight Zone and an award-winning adaptation of Hobson's Choice.
He also founded the School of Theater, Film and Television at UCLA and was its dean for eight years. He remained there as a professor.
Cates twice served as president of the Directors Guild of America and was on the Board of Governors of the Academy of Motion Picture Arts and Sciences.
Seinfeld star Jason Alexander paid tribute to Cates on Twitter saying: "So sad to hear of passing of Gil Cates, a true gentleman, kind and caring and a fine man of the theatre. Sleep well, my friend."
The cause of Cates' death is not yet known.
He is survived by his wife, four children, two stepchildren and six grandchildren.