Lady Gaga set to dominate MTV awards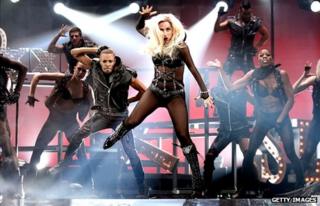 Lady Gaga looks set to dominate the MTV Europe Music Awards later, with six prize nominations and a show-stopping performance in Belfast's Odyssey Arena.
The US star goes up against the likes of Katy Perry, Bruno Mars and Justin Bieber at the annual awards show.
It all takes place at three venues across Northern Ireland's capital, with local band Snow Patrol playing a free gig to 15,000 people outside City Hall.
"The city is literally vibrating with joy," said frontman Gary Lightbody.
The singer, whose hits include Chasing Cars and Run, added: "It's kind of a dream to stop the traffic in Belfast.
"Very often Northern Ireland in the past has been in the news for other reasons and this is a really, really amazingly positive reason to be in the news."
Adele absent
Lady Gaga, 25, is up for the night's two biggest prizes, best song and best video - both for Born This Way, the title track of her current album.
In the best song category, she goes up against Bruno Mars's Grenade, Jennifer Lopez's On The Floor, Katy Perry's Firework and Adele's Rolling In The Deep.
Her competitors for best video include the Beastie Boys, whose star-studded short film for the single Make Some Noise features cameos from Steve Buscemi, Ted Danson, Elijah Wood, Chloe Sevigny and Kirsten Dunst.
French dance act Justice are also nominated for the apocalyptic video to Civilisation, alongside Beyonce, for Run The World (Girls) and Adele, again for Rolling In The Deep.
London-born Adele, who is also up for best female, is unable to attend the ceremony as she prepares for throat surgery to repair her damaged vocal cords.
"That's really rough, man," said US R&B star Jason Derulo, who will perform on the outdoor stage at the ceremony.
"As a vocalist myself, there's been times in my life where there's been a big scare, so for that to be actually happening to her is very sad."
Other performers at the Odyssey Arena in Belfast include Coldplay, Jessie J and Queen - who will pick up the Global Icon accolade.
Funk-punk band Red Hot Chili Peppers, meanwhile, will play a concert at the nearby Ulster Hall as part of the ceremony.
But Belfast's most fervent fans seem to be waiting for just one performer - teen star Justin Bieber.
Despite bracing temperatures, scores of girls have been waiting outside the arena and several local hotels from 04:30 in the hopes of glimpsing their 17-year-old idol.
"He's just tweeted to say he's arrived in Belfast," said Cara Hunter, prompting piercing screams from the fans around her.
The singer has been keeping a low profile, however, after a young woman alleged he had fathered her child last year.
Bieber denied the allegations on US TV on Friday, saying: "I know that I'm going to be a target, but I'm never going to be a victim."
His girlfriend, Disney star Selena Gomez, is hosting the MTV awards. She appeared before the press on Saturday, but answered only scripted questions from MTV red carpet host Tim Kash.
"I was nervous coming over here," she said, "because this is a really big show. But once I read the script a couple of times and went over the skits, I felt much better."
The European branch of the MTV Awards is generally more relaxed and off-the-cuff than the bigger, American version.
The ceremony lands at a different destination every year, from Berlin to Madrid. Belfast is so far the smallest host city.
Courtship
Organisers said there had been a "10-year courtship" between the council and MTV.
Previously, it had been felt that Belfast's infrastructure could not cope with the demands of a show that requires 39 separate hotels to house personnel from production crews to celebrity entourages.
"It's a multi-million dollar event," MTV's Richard Godfrey said. "It's the most ambitious show we've done for a long time."
Belfast City Council believes the ceremony could generate £10 million in tourism revenues, while a specially organised Belfast Music Festival in the run-up to the show has seen several local bands sign management and record deals.
"People in London and LA and all around the world are going to see bands that they wouldn't have seen without the awards being here," said Lightbody.
"I hope this will speed things up for them. Snow Patrol went through 10 years of not selling any records. I'd love that not to happen to any of these bands."
The MTV EMAs will be screened across Europe from 21:00 on Sunday.