Morgan Freeman to receive lifetime Golden Globe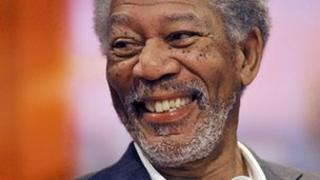 Oscar-winning actor Morgan Freeman is to receive the Cecil B DeMille Award for lifetime achievement at the Golden Globes next year.
The 74-year-old won a Golden Globe in 1990 for his role in Driving Miss Daisy and has scored four other nominations.
The award is bestowed by the Hollywood Foreign Press Association for outstanding contribution to the world of entertainment.
Freeman will receive the prize at a Los Angeles ceremony on 15 January.
Announcing the award, actress Amy Adams described the actor as "one of the most recognisable figures in American cinema".
"He has amazing screen presence, an unmatchable voice and quiet dignity, and has created some of the most memorable portrayals ever recorded on film," she said.
In a career spanning four decades, Freeman has been Oscar nominated five times and won the best supporting actor prize in 2004 for Million Dollar Baby.
He came to public attention in 1987 crime drama Street Smart, which earned him his first Oscar nomination.
His other credits include Unforgiven, The Shawshank Redemption, Invictus and the recently released family film, Dolphin Tale.
He is currently filming Batman sequel The Dark Knight Rises, in which he reprises his role as Lucius Fox.
The Cecil B DeMille Award was first given in 1952 to the filmmaker whose name it bears.
Previous recipients have included Walt Disney, Joan Crawford, Warren Beatty, Anthony Hopkins, Steven Spielberg and Robert De Niro.