Ricky Gervais comedy Life's Too Short gets 2.5m viewers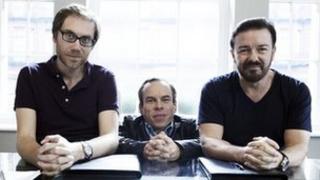 Life's Too Short, the new comedy by Ricky Gervais and Stephen Merchant, attracted 2.5 million viewers for its BBC Two debut on Thursday.
It stars Warwick Davis as an actor whose career on the slide, and hopes a reality show will reverse his fortunes.
The audience was above the channel's average for that timeslot - which is 1.8m - but lower than that of Gervais and Merchant's previous series, Extras.
Religious sitcom Rev also fared well, with a record audience of 2.4 million.
The BBC Two series, which stars Tom Hollander as a hapless vicar, returned for its second run.
In its first season, the comedy had an average audience of 1.87 million.
Rewarding role
Gervais and Merchant appear as versions of themselves in Life's Too Short, playing Davis' agents. The show also features cameos from stars including Johnny Depp and Liam Neeson.
It was conceived when Davis played a part in the duo's previous comedy, Extras, in 2006.
Writing on the BBC's TV blog, the actor, who is 3ft 6in (1.06m), called this series the highlight of his career, ahead of roles in Return Of The Jedi and the Harry Potter franchise.
"Filming the series was one of the hardest things I've ever done, but it was also the most fun," he said.
But the opening episode fared less well than Extras, which averaged 3.67 million viewers for its second series, and peaked with five million for the feature-length Christmas finale.
The most-watched programmes in the UK last night were EastEnders, with 8.4 million viewers and Coronation Street, which was seen by 8.1 million.
But Channel 4's exclusive interview with Dr Conrad Murray, who was convicted of the involuntary manslaughter of pop star Michael Jackson this week, only attracted 757,000 viewers.
It was a late addition to schedules that had not been heavily advertised.