Amy Winehouse planned 'supergroup'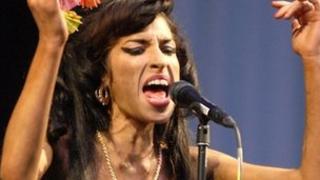 Singer Amy Winehouse had been planning to record material with a "supergroup" before she died, music producer Salaam Remi has revealed.
Remi said the singer had planned a jazz album with Questlove, of The Roots, and saxophone player Soweto Kinch.
"There were a bunch of other names bouncing around," he said, at a press playback for her posthumous album.
Remi has worked on all three Winehouse albums, including Lioness: Hidden Treasures, which is out next month.
The producer said he knew of Winehouse's "super group" plans because "she had written down everything she wanted to do".
Questlove features several times on the new album, including on the tracks Half Time and Best Friend.
The 12-track album features previously unreleased material and alternative versions of existing songs.
Remi said, when it came to her music, Winehouse was a perfectionist.
"She was taking her time with it, and at the end of the day all of her songs are somewhat autobiographical. So she had to live through something, then get out of it and look back at it, to be able to write about it," he explained.
It was announced earlier this month that a posthumous album would be released on 5 December, with Winehouse's father Mitch calling it a "fitting tribute".
A donation of £1 from every album sold will go towards the Amy Winehouse foundation, a charity set up by her father "to support charitable activities that provide help, support or care for young people".
The foundation was officially launched in September - on what would have been the star's 28th birthday.
Winehouse died from accidental alcohol poisoning aged 27. Her body was found at her London home in July.