The Deep Blue Sea: Terence Davies tackles Rattigan classic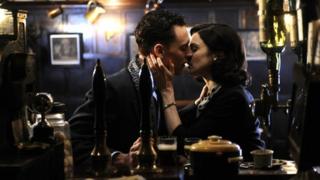 In his new film version of Terence Rattigan's masterpiece The Deep Blue Sea, director Terence Davies draws on his own - sometimes painful - recollections of growing up in 1950s Britain.
The centenary year of playwright Terence Rattigan has been marked by major stage revivals, including Cause Celebre, with Anne-Marie Duff, and Flare Path with Sienna Miller.
Now Rachel Weisz takes on the lead role in new film version of what many regard as Rattigan's finest play, 1952's The Deep Blue Sea.
She plays Hester Collyer, a middle class woman who has walked out on her marriage to a High Court judge (Simon Russell Beale) to move in with young ex-RAF pilot Freddie Page (Tom Hiddleston).
With its post-war setting and themes of forbidden love and loneliness, Rattigan's play seems to be perfect territory for director Terence Davies, whose films include Distant Voices, Still Lives and The Long Day Closes.
But the director, whose most recent work was the 2008 documentary Of Time and the City, says he had initial doubts when the idea was brought to him.
"I was very wary at first because I've never adapted a play before," he admits.
"I was very worried about all that dialogue and all that exposition in the first act, but then I was told I could 'be radical' with it."
The result is a stripped-down story told from Hester's point of view.
The film opens in a grim bedsit in a Blitz-damaged street in 1950s London, where Hester (Weisz) writes a suicide note to her lover and turns on the gas fire.
Her story unfolds, mixed with memories of her past life, in a London of shabby rooms, dark streets and smoky pubs.
"I grew up in the 50s and it was drab," recalls Davies. "You rarely saw primary colours."
Davies points out that in the 1950s it would have been very unusual for a woman to leave her husband, and that attempted suicide was a crime.
"What moves me most of all is that here is this very conventional woman who does the most unconventional thing - that's real courage," says Davies.
"She has not known this kind of erotic love and now she is overwhelmed by it."
It was important, he says, not to make any of those in the love triangle the villain of the piece.
"They're prey to their own emotions and sexuality - and love is a very potent force. All three want something from the other that the other can't give. That seems to me to be so tragic."
Rattigan, who was a master in exposing British insecurities about sex and class, enjoyed success with his plays until the mid-1950s, when he fell spectacularly out of fashion. He died in 1977.
Davies shot The Deep Blue Sea in London in November 2010, in 25 days, on a budget of £2.5m.
With its lush cinematography and soaring musical passages, it has the feel of a film from another era.
Davies admits there are strong echoes of David Lean's 1945 classic Brief Encounter.
Samuel Barber's Violin Concerto is used to articulate Hester's heartbreak, in much the same way that Rachmaninov's Piano Concerto No 2 soundtracks the emotional turmoil of Celia Johnson's character, Laura Jesson.
"I have always loved that Barber work and I wanted to use it desperately," says Davies.
There is another scene when a close-up of Hester's face reflects the lights of a passing train - just as in Brief Encounter's climactic moment.
"Stolen! Stolen! Stolen!," laughs Davies.
As well as its pulsing music and pub sing-alongs, The Deep Blue Sea is also filled with moments of silence .
"Silence is so powerful," explains Davies. "Coming from a large family [he is the youngest of 10 children] I can remember when people had terrible rows.
"Then that awful quiet would descend that you could cut with a machete. You would long for someone to say something.
"When my father used to go into these rages, we'd all go quiet and it was almost as bad as being verbally abused."
Davies has said that all of his films are about outsiders.
"I've always felt like an outsider myself. I've always never felt part of life, I've always felt like a spectator," he says.
Isn't being a spectator of life an advantage for a film-maker?
"Actually, I'm afraid of life," Davies says. "I'm very 'trepid'. I've never gone across India with £5 in my pocket and slept under an almond tree.
"I'm very afraid of the world. I feel at ease with women, but I'm afraid of men, probably because of my father being so violent."
Will an audience, I wonder, ever see a Terence Davies film set in contemporary times? Maybe even a comedy?
"I wrote one set the fashion world," says the 66-year-old director. "It's comedy - it's present day - I couldn't get any money for it. It's still in a drawer. Maybe when I'm 80.
"I would love to do that comedy because I do think to be made to laugh, or to make people laugh, is so life-affirming. It would be nice to do that once in my life before I croak."
The Deep Blue Sea is released in the UK on Friday 25 November.