Debbie Reynolds: 'I'll perform until I kick it'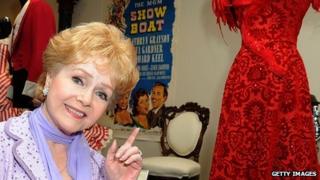 Hollywood veteran Debbie Reynolds explains why she will continue to perform as she prepares to hold another Beverly Hills auction to sell artefacts and costumes from her movie memorabilia collection.
The sale, which marks a turning point in the life of the star best known for starring opposite Gene Kelly in Singin' in the Rain, features clothes worn by the likes of Marilyn Monroe, Joan Crawford and Frank Sinatra.
After decades of collecting, the 79-year-old is parting with her Hollywood treasures.
She started collecting in 1970 when studio MGM auctioned off its old costumes.
Reynolds worked for the studio for almost two decades from the age of 16.
Museum dream
"I just thought it was terrible to see them selling all these great, wonderful, famous costumes for Halloween costumes, really. I really felt that they should be saved for a museum.
"I tried all these years to build a museum for the public but I wasn't able to make my dream come true.
"So my son and my daughter said, 'mother, it's time to sell'. So this is why I'm having the auctions."
The first auction, in June, was a remarkable success.
The lots included Marilyn Monroe's subway dress, from The Seven Year Itch, that fetched $4.6m (£3m) and took Reynolds by surprise.
"I hated losing them but I was happy everybody was thrilled to get them," says Reynolds.
The next auction will take place on Saturday at the Paley Center for Media in Beverly Hills and will feature four Marilyn Monroe costumes from Gentlemen Prefer Blondes, Bus Stop, Niagara and Let's Make Love.
All the costumes and artefacts have been preserved in mint condition.
"Everything was kept in special drawers, wonderful boxes and tissue paper and they're in a building with special humidification and heating.
"It costs a great deal of money to do it and a great deal of care. But I love them all so I took a great deal of care of them."
The actress says she does not know how she will feel when everything has been sold off.
"I'll speak to you after. I think I'll miss all of my children."
With some of the dresses likely to make many times the price she paid for them up to four decades ago, she has proved to be a shrewd investor.
"I just bought from the heart. I really just bought whatever they had for sale. I paid what ever they asked, but it wasn't a lot in those days."
After 65 years in the entertainment business, Reynolds says she cherishes her memories of Hollywood's golden age.
"I was very lucky to come in at the very end and there was Cary Grant and Clark Cable and I got to meet them all.
"Spencer Tracy, Kathryn Grayson - all those great stars. There's nobody bigger."
Her fondest memories are of her leading men.
"Glen Ford, Dick Van Dyke, Jack Lemmon, Frank Sinatra, I really loved them all," she says.
"They were all very special in their own way, that's why they were stars, because they all had that 'it' quality.
"Gregory Peck was quiet but was a handsome devil and he was a darling to work with.
"Gene Kelly - he was great."
'It' factor
Reynolds says Hollywood in the early days was a closer-knit community than it is today.
"We had parties and we got together and there'd be a pianist and Mickey Rooney would sing and Lena Horne would sing and Ethel Merman would get up and sing and Harry Belafonte and Debbie Reynolds," she laughs.
While Reynolds is sentimental about the old days, she has a healthy respect for the stars of modern-day Hollywood.
"I think you have to have the 'it' factor to be a star," she explains.
"Johnny Depp has the 'it' factor, Brad Pitt has the 'it' factor, Angelina Jolie has the 'it' factor, so have many of the younger stars.
"Many of the stars of today have just as much talent as yesterday."
Reynolds still performs in her own stage show and she keeps a gruelling schedule. She will, she says, ease off next year when she turns 80.
"I've decided now that at my age I'm going to do about 22 weeks a year, that's enough," she explains.
She is a performer who unashamedly enjoys the spotlight.
"You enjoy the applause and the love and the acclaim," she gushes.
"It's nice to have a visit with people that really love you and the fans that come to see you are the ones that really love you."
Reynolds is quick to dismiss any suggestion of retirement. She will keep on performing, she says, "until I kick it".
"I always say I'm going to work on the stage until I drop dead, like George Burns. And then I'm going to have myself stuffed, like Trigger," she smiles.