Happy tappers return to big screen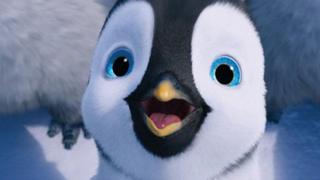 With the sequel to Oscar-winning animation Happy Feet newly arrived in UK cinemas, writer and director George Miller talks about the challenge of replicating the first film's success.
When Happy Feet was released in 2006 it rapidly became a box office hit. Children and adults alike queued at the cinema to see vocally-challenged penguin Mumble tap dance his way into their hearts.
The film took $41.5m (£26.4m) domestically in its opening weekend and went on to gross nearly $400m (£255m) worldwide, earning director George Miller the best animated feature film Oscar along the way.
With a sequel hitting the big screen, there is undoubtedly pressure on the director - who co-wrote both screenplays - to repeat his earlier success.
Happy Feet Two sees Mumble, once again voiced by Elijah Wood, now a father himself - with a son who has two left feet.
Despite opening second at the US box office, behind the latest Twilight instalment, and taking a modest $21.2m (£13.3m), Miller insists the only pressure he feels is self-imposed.
"There were lots of things we wanted to do in the first film that we couldn't get quite right - like the detail of the snow and ice and feathers," he says.
"But the technology has advanced enormously since then, so there's pressure to use it in a way that we couldn't before."
'Old friends'
Wood says high expectations for the film didn't even cross his mind while recording his part, with the rest of the voice cast, in Sydney, Australia.
"I knew that George would never do a sequel unless it was something that he felt was true to the original, and that there was another compelling story to tell," he says.
"We all felt passionate about this story and were excited to get together again and record."
"It felt like a reunion, getting together with old friends," adds Robin Williams, who reprises his roles as both the lovelorn Ramon and guru Lovelace.
The film also sees the introduction of new characters including Sven, a "flying penguin" voiced by Hank Azaria, and Carmen, who becomes the reluctant object of Ramon's affection, voiced by Modern Family's Sofia Vergara.
Also providing some comic relief are Will and Bill the krill - played by Brad Pitt and Matt Damon.
The pair feature in their own side story, as Will decides he wants to discover the world beyond their swarm - with Bill faithfully trailing behind.
Unlike the usual method in animations, where the voice cast record their parts separately, Miller had his cast record together in the same room.
"I thought because my scenes were small I was going to be in a booth on my own," says Vergara.
"But when I arrived it was Robin, Elijah and Hank in the booth with me, so I was able to see these talented people create all their voices."
Dance numbers
Miller's method of working also allowed the actors to improvise - something which comes naturally to Williams.
"I was doing a gospel riff as Lovelace, and at one point I was so excitable, I started talking in tongues," Williams says.
"You know with George he'll pick the best stuff, so he'll let you go on to the point of passing out."
With advances in technology, Miller was able to achieve and refine things on the sequel.
Dance numbers feature thousands of penguins in different shapes and sizes.
And the sequences were made more sophisticated, with award-winning tap dancer Savion Glover's choreography filmed on a motion-capture stage and worked into the computer animation.
Making the sequel in 3D also allowed Miller to better display the film's sweeping Antarctic environment.
"I love 3D - it's the way I shoot naturally, with wide lenses and the camera moving in and out of the screen to create the immersive feeling of space," he says.
"I believe we made a significantly better film because we had the chance to do things we wanted to do.
"I think the problem that people have with 3D is that it's used in a cheesy way, or it's used ineptly and crudely, which pulls you out of the experience."
Wood agrees: "3D can often be an afterthought and a gimmick to get people into theatres.
"But it can also be a great story-telling tool - and with this film, when you have such an incredible environment to display, it actually becomes a far more immersive experience.
"It's done in such a way that you almost forget you're watching a 3D film, which is how I like it."
Despite his Happy Feet success, Miller arguably remains best known for writing and directing the Mad Max films - and he is returning for a fourth Mad Max film next year.
But the director says this unlikely pair are connected: "I'm always driven by story which is what compels me to make a film.
"What Mad Max and Happy Feet have in common - and what I'm trying to explore - is what it is to be human through these two different genres."
Happy Feet Two is out in cinemas now.