Ice Age set for live stage show version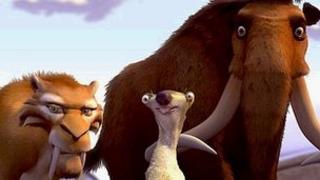 Animated film Ice Age is to be turned into a touring live arena show.
The show, featuring characters and a story based on the first three movies, will combine ice skating, aerial performance, puppetry and film.
It will be directed by Guy Caron, who is best known for his work on Cirque du Soleil productions Ka and Dralion.
Ice Age Live! A Mammoth Adventure is due to premiere at Wembley Arena in November 2012 before embarking on a five-year global tour.
The show is a joint venture between Twentieth Century Fox and Stage Entertainment Touring Productions.
Jeffrey Godsick, president of Fox consumer products said the production would be "a truly groundbreaking, live entertainment experience that will amaze and delight not just fans of the Ice Age franchise, but anyone seeking a truly unique live stage show".
The Ice Age film franchise has taken more than $4bn (£2.4bn) worldwide at the box office.
A fourth film - which sees actors Ray Romano, John Leguizamo and Denis Leary reprise their roles as Manny the mammoth, Diego the sabre-tooth tiger and Sid the sloth - is due for release next summer.