Julian Assange Wikileaks play coming to London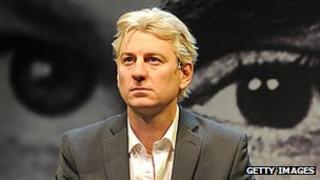 A play based on the life of Wikileaks founder Julian Assange is to make its European premiere in London next month.
Man in the Middle, written by Australian playwright Ron Elisha, will be staged at Theatre503 from 10 January to 3 February.
The production stars Australian actor Darren Weller, who played Assange during its initial Sydney run in July.
Assange is facing extradition to Sweden from the UK over alleged sex offences, which he denies.
Weller dyed his hair platinum blond to match that of Assange for the play, which was called Stainless Steel Rat while in Sydney.
It attempts to throw some light on the enigmatic Australian, who is behind the website which has published a whole host of leaked classified documents.
In its three-star review in June, Time Out Sydney said the play was "still a few drafts away from being either a thoroughly outrageous satire or an illuminating blend of fact and fiction".
Some scenes take place inside Assange's cell in Wandsworth prison and others in the Australian prime minister's bedroom in Canberra.