Turner Prize won by Martin Boyce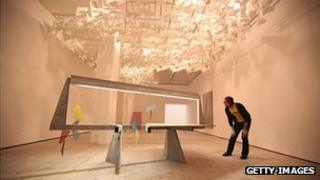 Sculptor Martin Boyce, whose works include artificial trees and a leaning litter bin, has won the Turner Prize.
Glasgow-based Boyce accepted the modern art award at the Baltic gallery in Gateshead - the first time the ceremony has been held outside a Tate venue.
Boyce is known for re-imagining items normally found in parks and public spaces and using them in atmospheric, modernist-inspired landscapes.
Photographer Mario Testino presented Boyce with the £25,000 cheque.
The prestigious and frequently controversial prize is awarded to a British artist under 50 who is judged to have put on the best exhibition of the last 12 months.
The other nominees were installation sculptor Karla Black, video artist Hilary Lloyd and painter George Shaw.
At the exhibition of the nominees' works at the Baltic, Boyce has turned three large white gallery pillars into trees, topped by canopies of uniform white leaves.
Angular brown leaves made from wax-coated crepe paper are scattered on the ground, while a library table has been reconfigured into a playful modern creation.
'Psychological presence'
He has said he is interested in "how mental and physical spaces relate to each other", adding: "You can generate a sort of mood or atmosphere a psychological presence by placing an object within a space."
The 43-year-old artist hails from Hamilton in Scotland and studied at the Glasgow School of Art.
When he was nominated, the judges said: "Distinctive for the way that he employs his grammar of forms, Boyce's sparse, intelligent sculptures evolve each time they are exhibited, exploring new tensions and new contrasts."
The exhibition of the nominees' work has been a hit in Gateshead, drawing more than 100,000 visitors since it opened in October.
The annual exhibition and ceremony have only been held outside London once before in the Turner's 27-year history, at Tate Liverpool in 2007. The Turner's traditional home is Tate Britain.
In the future, the prize will be held in a different city around the UK every other year, returning to London in the years between. It will be held in Londonderry in 2013.
Last year's prize was taken by sound artist Susan Philipsz.