IT Crowd's Chris O'Dowd to pen Sky comedy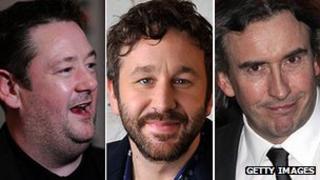 The IT Crowd's Chris O'Dowd is to write and appear in a new comedy for Sky1, which will also co-star Steve Coogan and Johnny Vegas.
Moone Boy will be partly based around O'Dowd's childhood in Ireland at the end of the 1980s.
The show, which will feature some animated elements, tells the tale of an 11-year-old and his imaginary friend.
In a statement, O'Dowd said the show would have a "number of laughs that I hope people will love".
The six-part series has been adapted from O'Dowd's short film which featured in last December's Little Crackers series.
"We were delighted when Chris O'Dowd decided to expand his Little Cracker into a full series," said Lucy Lumsden, head of Sky comedy.
"He's written six brilliantly funny scripts, Sky customers are in for a treat."
Filming is expected to start in Dublin and O'Dowd's hometown of Boyle, County Roscommon, in the new year. The series is scheduled to start in the summer.
O'Dowd, who plays irascible computer technician Roy Trenneman in the IT Crowd, has recently made appearances in Hollywood films Bridesmaids and Gulliver's Travels.
His new series was announced shortly after IT Crowd creator Graham Linehan revealed his series was to end with a one-off special.