Blue Peter Book Award shortlist unveiled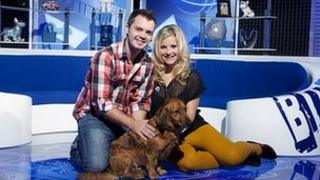 A time-travelling schoolgirl and a story about a teenage werewolf have been nominated for the annual Blue Peter Book Award.
The Considine Curse by Gareth P Jones and A Year Without Autumn by Liz Kessler will vie for the title.
Discover the Extreme World and The Official Countdown To The London 2012 Games are also up for the prize.
More than 200 Blue Peter viewers will determine the winner, who will be announced on 1 March.
The children will be selected from 10 schools across the country and for the first time, the winner will be presented with the trophy during a special edition of the BBC One programme.
'Amazing books'
A judging panel selected books for the shortlist, which they think appeal the most to children aged between six and 12.
Discover the Extreme World is a fact book by Camilla de la Bedoyere, Clive Gifford, John Farndon, Steve Parker, Stewart Ross and Philip Steele.
The Considine Curse author Gareth P Jones is best known for the Dragon Detective Agency book series and Liz Kessler's most notable work is a series about a half-mermaid called Emily Windsnap.
Children's author Linda Chapman, who sat on the judging panel, said: "The important thing I think all four books have in common is that readers will be excited by them, want to re-read them and share them with their friends."
Blue Peter editor Tim Levell said: "We know that our young viewers love reading, and we are excited to introduce them to four amazing new books."
The Blue Peter Book Awards, which is supported by Booktrust, have been recognising the best in children's literature since 2000.
Last year, Lauren St John's Dead Man's Cove was named the winner of the annual prize.