Modern Family nominated for WGA and PGA awards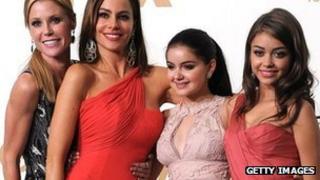 Modern Family - winner of best comedy at both the 2011 Writers Guild of America (WGA) and Producers Guild Awards (PGA) - is a leading contender for next year's awards.
The show has three nominations at the WGAs as do dramas Breaking Bad, Boardwalk Empire and Homeland.
In the PGAs, last year's winners Mad Men, Deadliest Catch and The Colbert Report are all shortlisted.
The PGAs take place on 21 January, while the WGAs are held on 9 February.
The producers' awards will be held in Los Angeles, and the writers' prizes are due to be presented at simultaneous ceremonies in Los Angeles and New York.
Mockumentary Modern Family, which follows couples and their children, won the best comedy series Emmy in September.
The show must beat 30 Rock, The Big Bang Theory, Glee, and Parks and Recreation to repeat its PGA comedy award success.
And last year's PGA best drama Mad Men competes against Boardwalk Empire, Dexter, Game of Thrones and The Good Wife to retain its title.
Meanwhile, Simon Cowell's X Factor missed out in the "competition television" category, but there was a nomination for his former show American Idol.
WGA nominees include US-British collaboration Episodes - featuring Stephen Mangan and Friends star Matt LeBlanc - which goes up against the US remake of Danish crime thriller The Killing for best new series.
The feature film categories for both sets of awards have yet to be announced.
Both the PGAs and the WGAs are seen as indicators of which films may win at the Oscars.