Theatre writer Bill Morrison dies at the age of 71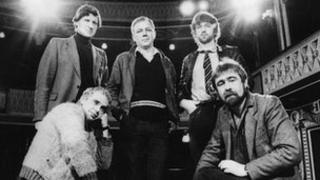 Playwright Bill Morrison, one of Liverpool's famed Gang of Four group of writers alongside Alan Bleasdale and Willy Russell in the 1980s, has died.
Morrison is best known for writing the farce Flying Blind, which transferred from Liverpool to London and New York.
Bleasdale told the Liverpool Daily Post that Northern Ireland-born Morrison, 71, was "a remarkable writer and a great teacher".
Flying Blind was "one of the great plays of the 20th Century", he added.
Morrison, Russell, Bleasdale and Chris Bond shared the role of artistic director at the Liverpool Playhouse from 1981-85, regarded as a golden era in the city's theatre scene.
Morrison also directed the premiere of Poet Laureate Carol Ann Duffy's first play Take My Husband in 1982.
Gemma Bodinetz, current artistic director of the Liverpool Everyman and Playhouse, said Morrison was "a brilliant playwright and a generous spirit".
"Our last meeting was at the Playhouse centenary less than a month ago," she said.
"He was wise and tender and so excited about the power of theatre for future generations."