Riots play transferring to Tottenham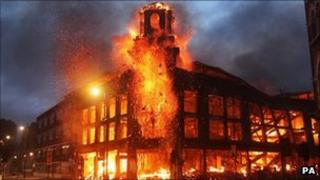 A play based on spoken evidence about the summer riots is transferring to Tottenham in north London, where the disturbances began.
Gillian Slovo's The Riots has just finished a sell-out run at the Tricycle Theatre in Kilburn, London.
The play will be performed at Tottenham's Bernie Grant Arts Centre between 4 and 14 January 2012.
The Riots is based on interviews with politicians, those affected and the rioters themselves.
Critics have described it as "compelling" and "thought-provoking".
John Baraldi, the chief executive of Bernie Grant Arts Centre, told The Stage: "For us, it is not only an important piece of theatre, but it also contributes to the process of a community trying to make sense of a huge tragedy which deeply wounded and confused it."
The Riots is the latest in a series of plays at the Tricycle Theatre that take verbatim testimonies from headline-grabbing stories and turn them into drama.
Previous productions have looked at the Stephen Lawrence inquiry and the events of Bloody Sunday. However, most of those were derived from transcripts of public enquiries.
So far, the government has declined to hold an inquiry into August's riots. The theatre claims its play will help fill that void.
South African-born Slovo previously worked on the Tricycle's reconstruction of events at the Guantanamo Bay detention camp.
Following the widespread rioting which happened across English cities including London, Birmingham and Manchester in August, more than 3,000 people were arrested, with nearly 2,600 in the capital.
More than 1,000 people have been charged with criminal offences.