Michael Morpurgo makes secret War Horse cameo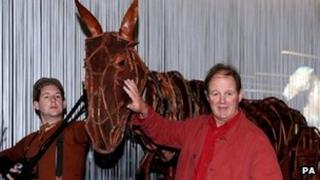 War Horse author Michael Morpurgo has made a surprise cameo in the Broadway production of his popular novel.
The former Children's Laureate was part of a crowd watching a horse auction in Wednesday's matinee performance at New York's Lincoln Center.
The 68-year-old - who makes a similar cameo in Steven Spielberg's War Horse film - had no dialogue and did not appear again until the curtain call.
"They hide me away," Morpurgo told the Associated Press afterwards.
"It's a wonderful privilege for me to be connected to this whole way that theatre works."
The only clue Wednesday's audience had about the author's appearance was when the auctioneer called out for a "Mr Morpurgo".
The author made a similar crowd scene appearance in the London staging of War Horse, which first played at the National Theatre in 2007.
In the 1960s, Morpurgo's father - Canadian actor Anthony van Bridge - twice appeared at the Lincoln Center.
"I thought, 'I've got to go and be in the same place,'" the writer revealed on Wednesday. "I love full circles."