Smuggled Roman statues head back to Italy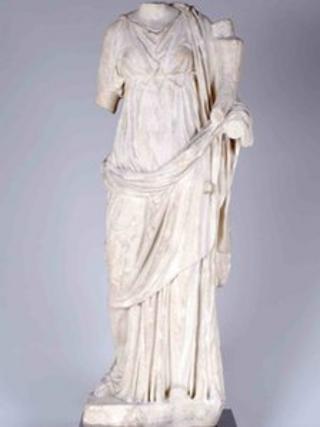 A pair of Roman statues believed to have been smuggled from Italy, prior to being purchased at a New York gallery in 1984, are being returned home.
The marble statues of the Goddess Fortuna and another female figure had stood in the lobby of a building in Louisville, Kentucky for many years.
Health insurance company Humana said the pieces were bought in good faith.
"What's appropriate... is for us to return these treasures to where they rightfully belong," said a spokesman.
Lorenzo Ornaghi, Italy's culture minister, praised Humana for coming forward voluntarily with their suspicions about the statues.
"Italy is grateful for the immediate transfer of these two important objects and their recovery to the Italian cultural patrimony," he said.
According to the Ministry of Cultural Heritage and Activities's website, the statues date from the 2nd century AD.
Italy has long campaigned for the return of looted antiquities.