Golden Globes 2012: A transatlantic love affair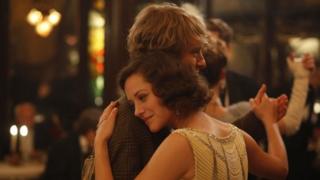 The nominations for the 2012 Golden Globes have been revealed, with French silent film The Artist leading with six nominations, and two George Clooney films up against each other for best drama.
This year's Golden Globe nominations reveal something of a love affair between Hollywood and France.
Martin Scorsese's Hugo and Woody Allen's Midnight in Paris are both largely set in a romanticised version of the French capital.
Hugo - with three nominations in all - is in the running for best drama picture. Midnight in Paris - with four nods - is up for best picture in the musical or comedy category.
But this isn't a case of unrequited passion.
In the same category is French silent film The Artist - a love letter to Hollywood's silent era.
Michel Hazanavicius's film is unusual in that it is a 21st Century movie which looks like it was made in 1927. He even shot it in Hollywood - in black and white.
French actor Jean Dujardin plays a silent screen actor who sees his career crumble with the advent of "talkies". Meanwhile, Peppy Miller (Berenice Bejo) is a pretty young extra who sees her star ascend in the era of sound.
Both Dujardin and Bejo are up for acting Globes, with Hazanavicius up for best director.
There is another French connection worth mentioning: Steven Spielberg's War Horse is set in both a picture-postcard England and the muddy, war-ravaged trenches of France during World War I.
The film - released in the UK next year - is up for best drama picture against nuanced family tale The Descendants, civil rights story The Help, Scorsese's Hugo, political thriller The Ides of March and baseball-oriented Moneyball.
But despite the recognition for War Horse as a film, Spielberg has been omitted from the best director shortlist.
George Clooney, on the other hand, is definitely in. He's nominated for political thriller The Ides of March - both as director and co-writer.
His co-star in the film, Ryan Gosling, gets a nod for best actor (drama), only to find himself up against Clooney, who is nominated for his role in The Descendants.
If Clooney wins, however, Gosling has another chance for glory with a best actor nomination in the musical or comedy category for relationship drama Crazy, Stupid, Love.
Snubbed
So how much are the Globes an indicator for the Academy Awards in February?
The answer is that they are not as good as they used to be.
The voters are the Hollywood Foreign Press Association, a group of about 85 entertainment reporters for overseas outlets in Los Angeles.
In the last seven years, only one top Globe-winning film has gone on to claim the main trophy on Oscar night - and that was Slumdog Millionaire.
Last time round it was David Fincher's The Social Network that was victorious at the Globes, but it got trounced by The King's Speech at the Oscars.
By contrast, The King's Speech only picked up one win at the last Golden Globes - for Colin Firth as best actor - despite having been nominated in seven categories.
The year before, the Globes chose Avatar over The Hurt Locker - but it was the low-budget Iraq-set drama that toppled James Cameron's 3D sci-fi goliath at the Oscars.
Who got snubbed this time round?
As Woody Harrelson, one of the stars announcing the 2012 Globes hopefuls, admitted with a shrug: "There's a lot of things left off today, I just want to say."
Notably absent from the shortlists are Stephen Daldry's Extremely Loud and Incredibly Close, British Cold War drama Tinker Tailor Soldier Spy and Terrence Malick's Cannes winner The Tree of Life.
Brad Pitt may have missed out on an acting nomination for Tree of Life, but he can console himself with his best actor (drama) nod for Moneyball.
Other A-list directors left off the shortlist alongside Spielberg are David Fincher (Girl With the Dragon Tattoo) and Clint Eastwood (J Edgar).
Ricky Gervais will host the Golden Globes for the third time on 15 January. His last turn as host was peppered with jibes at the gathered celebrities and even the HFPA.
The comedian posted a YouTube clip on his Twitter page of his searing monologue from the 2011 show, promising: "This x 10."