Margin Call paints 'greedy bankers' in human light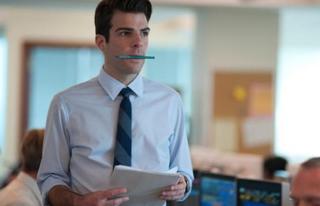 Given the current financial climate, the film Margin Call might be asking the impossible of its audience - to see a group of wealthy bankers as human.
Set on New York's Wall Street on the eve of the 2008 crash, it features Star Trek's Zachary Quinto as a junior trader who realises his investment bank is going to go under unless it quickly sells off its mountains of toxic mortgage securities.
As the night wears on, a stellar ensemble cast is introduced, including Paul Bettany as a cynical London trader, Kevin Spacey as a weary supervisor, Demi Moore as a risk manager and Jeremy Irons as a reptilian chief executive who makes the call to sell stock - and thus infect the rest of the financial sector.
It first premiered at the Sundance Film Festival a year ago, but recent economic events, especially the Occupy Wall Street protest, have propelled it into the headlines, with the New York Times calling it, "the best movie ever made about Wall Street".
"We were actually worried that the Occupy Wall Street movement wouldn't be good for the film," said JC Chandor, the American director who wrote and made Margin Call.
"When an event is too much in the news, sometimes an audience just ends up getting tired and doesn't want to engage any more with that issue. Fortunately, the whole movement has been done in a very mature way, and started attracting headlines and reviews for our film - which is more than you can ever hope for when you're a newcomer making an independent movie."
When it first aired at Sundance the events Margin Call depicts - a bank and a whole global financial system staring into the abyss - could have been seen as historical. Now, surely, it's a lesson in current affairs again?
"I don't want to seem like I am a soothsayer or a prophet," Chandor replied. "However, what's going on now is the flushing out of the same event, back in 2008. The film, however, doesn't get bogged down in how the whole thing happened, but looks at the human beings caught up in this.
"How did they get into the positions they are in? How are they going to deal with it? And what allows highly educated, highly trained people to avoid all the warning signs, to still be pressing the accelerator when it's time to be hitting the brake, until you literally drive your industry, and maybe the world, over a cliff?"
One night only
Chandor would have good reason to know about banking, as he is the son of a stockbroker who worked for the investment bank Merrill Lynch for 30 years. It's believed the film's plot is loosely based on what really happened to Lehman Brothers, a global financial services firm that had to file for bankruptcy in 2008.
Over many months, he collated his "dream cast", who were attracted by his script and the fact it was going to be shot in one location in three weeks.
"I had a budget of $3.5m," says Chandor, "and so I tried to make my restrictions work for me. The film takes place over the course of one night, mostly in one location, so all those names were only required for a short period of time, so that's why they could all show up.
"It was a really intense shoot. We had literally one floor of office building space, so Demi Moore's dressing room was actually an office next door to her 'office' in the film. And there's a crunch boardroom meeting that Jeremy Irons's character holds in the middle of the night.
"We actually had to make that into a night shoot anyway, so you can see Jeremy getting twitchy in there and it's nothing to do with acting - it's sheer exhaustion.
"Believe me, the irony was not lost on me that our struggles to make a film about the financial crash were made much worse by the actual financial crash.
"I was offered three times the finance if I changed the script, so the ending would have seen one of the senior bankers led away in handcuffs to face charges. But that would have been apportioning blame on one figure, and I didn't want to do that."
'Moustache-twirling villain'
Some of the characters might confirm the popular stereotypes about bankers: Paul Bettany's trader admits he's blown his salary on cars and prostitutes.
But there are others who are terrified for their jobs and mortgages. Before the film started shooting, Chandor sent the cast down to Wall Street to meet as many real bankers as possible.
"This is the thing, they're just human beings," says Spacey. "We met regular people worried for their jobs, and supporting their families. We met some intensely funny, clever and creative people too.
"From having headed up the Old Vic in London for many years, I also know that many of our plays wouldn't have been put on without the help of the corporate world. They do a great deal of good too."
Bettany adds: "I don't think we should be blaming bankers for having been really good at making money when that's what we've been asking them to do.
"They managed to dream up - on paper anyway - more money than there's ever been. Since then we've been making judgements on them collectively rather than as individuals. I know I didn't want to play my character as a moustache-twirling villain."
The question is, have movements like Occupy Wall Street and Occupy London expressed the desire of a majority to turn away from the banking system Margin Calls portrays?
"All business is amoral," says Irons. "But we have been living in a world where people have been encouraged to borrow beyond their wildest dreams, and now their houses and jobs are being taken. We have to start sharing our resources and not let consumerism run rampant.
"I see Margin Call as a movie about the end of a period of capitalism," says Chandor. "We have been living in a period of time where the best and brightest minds have been occupied solely with making money. What a total waste of our smartest people.
"It is a film about overarching greed. We as individuals have been achingly greedy and we all helped contribute towards the financial crash. I did, by running up thousands of pounds in credit card debt.
"Our entire culture has been based on it and the crash was - and still is - the systemic failure of our values. So this film may be about horrible, greedy bankers but I want people to think about their own part in these events."
Margin Call is released in the UK on 13 January.