Wizard of Oz performance halted after hitch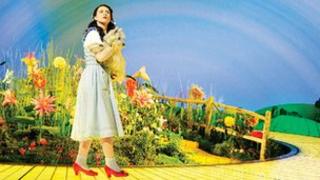 A performance of The Wizard of Oz at the London Palladium had to be called to a halt on Thursday after the production suffered technical problems.
Star Michael Crawford apologised when the musical stopped after about 15 minutes, audience members told the BBC.
A spokeswoman said there had been a problem with the "stage revolve" which could have endangered "the health and safety of the cast and crew".
She added the problem had been resolved and the show would continue on Friday.
Kathryn Hearn, from St Albans, who attended the performance said: "The show had got to where the hurricane comes and then the curtain shut.
"They said they had technical problems and they would have a short break while they tried to fix it.
"But half an hour later, Michael Crawford came out saying that, as it was a technical show, they could not go on without compromising safety. He was quite emotional and seemed to be on the verge of tears."
Crawford remarked that he was upset because his guest in the audience that night was his Some Mother's Do 'Ave 'Em co-star Michele Dotrice, who played Betty Spencer.
"There were women crying in the toilets because Michael Crawford is only in the show until 5 February so they were worried they wouldn't be able to see him again," Mrs Hearn added.
"There were also a few coach parties that had travelled some distance to watch the show."
The spokeswoman for Andrew Lloyd Webber's show said: "Large productions often have large and complex sets, so this isn't an uncommon occurrence in the West End.
"[Webber's] The Really Useful Group takes their responsibilities in this area very seriously."
She added that audience members for Thursday's show would be able to exchange their tickets for another performance.