W.E. stars: 'Madonna's passion was infectious'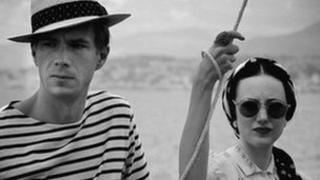 W.E. stars Andrea Riseborough and James D'Arcy reflect on their roles as Edward and Mrs Simpson - and being directed by "the most famous woman on the planet".
W.E. is the story of the affair between King Edward VIII and American divorcee Wallis Simpson - the couple who caused a constitutional crisis in the 1930s.
But it is also the story of Madonna - pop star turned film director.
The singer has spent years developing the idea for W.E. - including two years co-writing the script about the woman for whom a king gave up his throne.
So is it fair to call W.E. a passion project for Madonna?
"And for all of us!" exclaims Andrea Riseborough, when we meet in London's Soho to discuss Madonna's second directorial outing.
"She was so passionate about the story from the first moment I met her - it was the thing that was so infectious."
Madonna had sent Riseborough the W.E. script after seeing her Bafta-nominated performance as Margaret Thatcher in BBC drama The Long Walk to Finchley.
"I went to meet her the she was so ignited with the story. From that day on we were together every day for seven months," says Riseborough.
Riseborough's co-star James D'Arcy first met Madonna in rather different circumstances.
"It was in cyberspace!" he laughs.
"We met on Skype and the picture froze but the sound kept coming through. So she was talking to me about the film and I was thinking: 'Do I say something?' and 'Is my picture frozen at her end in a deeply unflattering look?'
"In the end I kept listening - but I was blown away by how fantastically well-prepared she was."
'Enigmatic footnote'
W.E. tells the story of Edward and Wallis Simpson through the eyes of Wally Winthrop (Abbie Cornish), an American woman in the 1990s.
Trapped in an abusive marriage, Wally is obsessed by the auction of the estate of the Duke and Duchess of Windsor in Manhattan, and spends an unhealthy amount of gazing at the items on sale.
The film flips back and forth between the Wally and Wallis storylines - with Mrs Simpson occasionally turning up in the 1990s to proffer relationship advice.
Madonna's rigorous attention to period detail is evident on screen. How much research did her lead actors undertake?
"She gave me a lot of books," recalls D'Arcy. "If a sentence hadn't been underlined it had been highlighted, and if it hadn't been highlighted there was a post-it note referring to a page in another book."
Riseborough also immersed herself in books, archive footage and photos.
"Still images I find very useful, it's a moment in time. I found shots of her looking directly into the camera very revealing. That's when I really began to feel like I had an emotional relationship with her.
"The link had been so tenuous before. She'd been a still image but a monochrome, enigmatic footnote."
Wallis Simpson first met Edward, Prince of Wales, in 1931. By 1934 she was his mistress. In December 1936, Edward - now King Edward VIII - delivered his famous abdication speech so he could marry Wallis. The couple spent most of their lives in France.
How much did Riseborough know about Wallis Simpson before she took the role?
"I have one memory, when I was very young, of people bristling in a room when her name was mentioned," she says.
And what did D'Arcy make of Madonna - the director?
"I want to work with people who are passionate about their craft and have a strong vision which they can communicate - and she ticked all of those boxes; plus it was good fun. That's not a given on any film set."
The 36-year-old actor admits there was no time to be star-struck.
"She doesn't allow you to feel that way for more than 10 seconds. She's not big on small talk, so it's straight down to business.
"But when we went to the Venice Film Festival I was reminded that she was the most famous woman on the planet, and has been for three decades."
Madonna's debut project as director Filth and Wisdom (2008) was largely mauled by critics, and W.E.'s Venice debut didn't fair much better.
Xan Brooks in The Guardian called it "a primped and simpering folly, the turkey that dreamed it was a peacock".
Film critic Mark Kermode's BBC blog praised Riseborough's "fantastic performance" but said the film "was one of the worst I've ever seen".
W.E. picked up a Golden Globe at the weekend for the Madonna song Masterpiece, but it was overlooked in the Bafta nominations.
Says D'Arcy: "As an actor you want to work with interesting people on interesting projects, and you want to be challenged. What happens afterwards is neither here nor there.
"Obviously it's delightful if people like what you're doing, but I don't read any of reviews. I don't care about the awards, it isn't part of the reason why I do it. I don't dismiss them but neither do I live for them."
W.E. is released in the UK on Friday 20 January.