Museums in England share £60m fund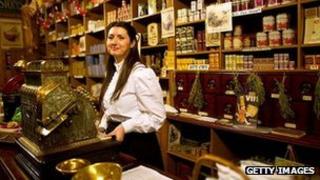 A £60m pot of public money has been divided between English museums and galleries to improve their exhibitions.
Arts Council England has awarded the money to 16 bodies in areas including Manchester, York, Cumbria and Bristol.
But Museums Sheffield warned that its service would "decline significantly" after its application was rejected.
"Large scale staff redundancies, major reductions in exhibition programmes and scaled down learning provision... are all now inevitable," it said.
A total of 29 institutions applied for major grants from the Arts Council England's Renaissance programme. The 16 successful applicants will share £20m per year over the next three years.
Arts Council England chief executive Alan Davey said the groups were chosen "for the excellence of their work, their innovative approaches to connecting audiences with their collections and for their compelling plans for the future".
Museums Sheffield, which runs the Millennium Gallery, Graves Gallery and Weston Park museum, said none of its attractions would close as a result of the decision, but that it would have "a huge impact on museum and gallery provision" in the city.
'With regret'
Cluny Macpherson, Arts Council England's regional director for Yorkshire, said he recognised "the excellent work Sheffield Museums have been doing" and was discussing other forms of support.
"Yorkshire has an incredibly strong museums offer, which was reflected in the high quality of applications we received from the region, and it was with regret that we couldn't fund Sheffield Museums as a major partner," he said.
The other losers included institutions in the East Midlands, which are not represented on the list.
The successful bodies are:
Beamish and Bowes Museums (County Durham)
Birmingham Museums Trust (Birmingham City Council, Thinktank)
Bristol City Council
Cumbria Museums Consortium (Tullie House, Wordsworth Trust, Lakeland Arts Trust)
Horniman Museum and Gardens (London)
Ironbridge Gorge Museum Trust (Shropshire)
Leeds Museums and Galleries
Manchester Partnership (Manchester City Galleries, Manchester Museum, Whitworth Art Gallery)
Museum of London
Norfolk Museums and Archaeology Service
Oxford University Museums and Oxfordshire County Museums Service
Royal Albert Memorial Museum, Exeter, and Plymouth City Museum and Art Gallery
Royal Pavilion and Museums, Brighton and Hove
Tyne and Wear Archives and Museums
University of Cambridge Museums
York Museums Trust
Arts Council England said unsuccessful institutions could be eligible for other grants under its Renaissance programme, which it took over from the Museums Libraries and Archives Council last year, and which will distribute a total of £43.6m per year over the next three years.
That is 15% reduction on the previous spending period, the Arts Council said.