Actress Danes gets Hasty Pudding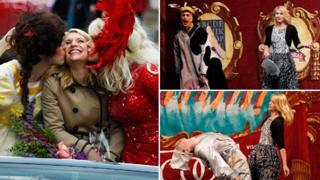 Actress Claire Danes has been awarded this year's Hasty Pudding Woman of the Year prize, in a colourful ceremony at Harvard University.
The Romeo and Juliet star paraded through Cambridge, Massachusetts, alongside students dressed in drag.
She then took part in a recital of a mock Shakespearean version of the Vagina Monologues and a dance-off with an actor dressed as a computer.
"I feel proud," the Homeland actress said. "And debased."