Nathan Stewart-Jarrett: This play is a bit of a mountain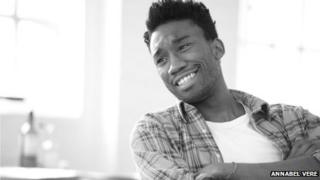 Nathan Stewart-Jarrett, star of E4's Misfits, on his insect-chomping role in a revival of The Pitchfork Disney - a play that helped kick-start so-called "in-yer-face" theatre of the 1990s.
As Cosmo, the sparkly-jacketed stranger at the heart of The Pitchfork Disney, Nathan Stewart-Jarrett makes an unforgettable entrance.
He arrives on stage and promptly vomits. Minutes later he plucks a cockroach from under the kitchen sink and pops it into his mouth.
Cosmo, it turns out, is a pub performer who eats insects for entertainment. "We all need our daily dose of disgust," he says.
Stewart-Jarrett, speaking after an early preview at London's Arcola Theatre, acknowledges playwright Philip Ridley's powers of prediction.
"When you think about all the trials and court cases on the front pages, you realise people people are addicted to this. We do need our daily dose, and Philip has tapped into that."
While cockroach-crunching may have shocked audiences at the play's debut in 1991, those reared on 21st Century reality shows may see things differently.
Ridley himself notes in a recent Guardian interview how his play has proved prophetic: "A lot of what I was dealing with has come to pass. In The Pitchfork Disney, Cosmo Disney's job is eating live insects for entertainment and now we have it every night on I'm a Celebrity."
This 21st anniversary production is directed by Edward Dick, who revived Ridley's The Fastest Clock in the Universe at Hampstead Theatre in 2009.
The story unfolds in the home of brother and sister Presley (Chris New) and Haley (Mariah Gale), 10 years after the death of their parents.
Dosed up on medicine, the chocoholic 20-somethings' claustrophobic world is invaded by the mysterious Cosmo Disney and his bizarre companion Pitchfork Cavalier (Steve Guadino).
How did Stewart-Jarrett find the character of Cosmo?
"I got very lost!" he admits. "I haven't played a role like that since drama school - this is not naturalistic and I felt like I was gesticulating or articulating too much, but once I got over that hurdle it got easier.
"One could say that he confronts people with their fears, or that he is what Presley wants to be. Or is he the devil?"
This is Stewart-Jarrett's first play for three years. Much of his stage absence is due to his commitments to TV series Misfits in which he plays shamed sports star Curtis, one of a group of young offenders who develop superpowers after a thunderstorm.
How has he found the return to live theatre? "I wanted to do a play otherwise you fall out of the habit and then you get scared. This play is a bit of a mountain in terms of vocal energy. There are no scenes - it just keeps going and you can't let it drop."
Stewart-Jarrett's other stage work includes Wig Out (Royal Court); The History Boys (National and Wyndham's) and Brixton Stories (Lyric Hammersmith).
A fourth series of Misfits has been commissioned, with Stewart-Jarrett back among the Asbo superheroes.
"As long as I can put something positive in and get something positive back then I'll carry on," he says.
He's also excited by a film he shot last year, The Comedian, directed by Tom Shkolnik with Edward Hogg and Michael Smiley in the cast.
"It was completely improvised. From day one to the end, no-one ever gave me a piece of paper and said: 'This is what you do and this is what you say.'
"It was really liberating. And I hated improvisation at acting school!"
The Pitchfork Disney opens at the Arcola Theatre on 1 February. Philip Ridley's new play, Shivered, premieres from 7 March at Southwark Playhouse.