Blue Peter seeks best children's book of last decade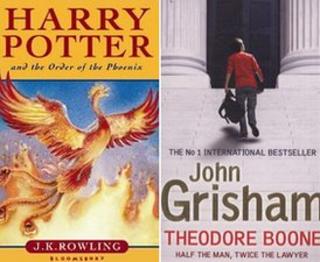 Harry Potter and the Order of the Phoenix, and Theodore Boone are among the books vying for the title of best children's novel of the last decade.
BBC TV's Blue Peter has released a shortlist of 10 titles and is asking viewers to vote for their favourite.
Mr Stink, Private Peaceful, Diary of a Wimpy Kid and Candyfloss also feature on the list.
The winner will be announced on Blue Peter on 1 March, to coincide with the show's annual book of the year award.
The shortlist is compiled from the best-selling fiction books for children aged 5-11 of the last decade. Only one title has been allowed per author.
Five of the books, including the fifth book by JK Rowling in the Potter series, have inspired feature films.
Jeff Kinney's Diary of a Wimpy Kid; Francesca Simon's Horrid Henry series; The Series of Unfortunate Events by Lemony Snicket and Michael Morpurgo's Private Peaceful have also been adapted for the big screen - with the latter due for release later this year.
The list also includes former children's laureates Jacqueline Wilson, Michael Morpurgo and Quentin Blake, who illustrated David Walliams' Mr Stink.
"Children care as much about books as adults do - if not more so," said Blue Peter editor Tim Levell.
"This is a fantastic list - every single book on the shortlist is a corker."
The full list of books is:
Alex Rider Mission 3: Skeleton Key by Anthony Horowitz
Candyfloss by Jacqueline Wilson
Diary of a Wimpy Kid by Jeff Kinney
Harry Potter and the Order of the Phoenix by JK Rowling
Horrid Henry and the Football Fiend by Francesca Simon
Mr Stink by David Walliams
Private Peaceful by Michael Morpurgo
The Series of Unfortunate Events: Austere Academy by Lemony Snicket
Theodore Boone by John Grisham
Young Bond: SilverFin - A James Bond Adventure by Charlie Higson