Chronicle beats The Woman in Black at US box office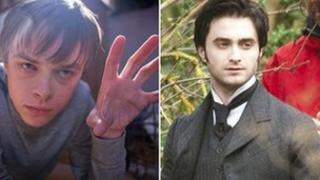 Chronicle, a film about teenagers with super powers, has beaten Daniel Radcliffe thriller The Woman in Black to top the North American film chart.
The films took $22m (£14m) and $21m (£13.3m) respectively on their opening weekends, according to early estimates.
As a result, both ended up in the all-time top 10 for Super Bowl weekend - usually a quiet time for US cinemas.
Last week's number one, The Grey, starring Liam Neeson, dropped to three, with takings of $9.5m (£6m).
Sci-fi film Chronicle, made by first-time director Josh Trank, tells the story of three teenage boys who use their telekinetic powers in mischievous ways.
It is shot in a faux-documentary "found footage" style made popular by films like The Blair Witch Project and Cloverfield.
'Younger demographic'
Analysts said that both Chronicle and The Woman in Black found their main audience with cinemagoers in their teens and early 20s.
"Chronicle was designed and made for a younger demographic," said 20th Century Fox head of distribution Chris Aronson.
"That demographic has been the one that's been missing from theatres."
He said there had been "a lot of pre-release chatter on social media that made a connection with this audience".
The Woman In Black is an old-fashioned ghost story, based on Susan Hill's 1983 novel.
Radcliffe plays a widowed lawyer, haunted by apparitions at the home of a dead client.
CBS Films head of distribution Steven Friedlander said the movie had "all the elements for making a hit".
"In retrospect, you look at Daniel Radcliffe, one of the biggest stars and one of the hardest-working kids in show business, you have a very well-made PG-13 scary movie," he said.
Hammer Films - the British studio which became synonymous with the horror genre in the 1950s - said The Woman in Black had scored the production company's biggest North American opening.
"I'm thrilled that a British ghost story made with a British cast, crew and investment is playing so well with American audiences," director James Watkins said.
Drama Big Miracle, based on the true story of a whale rescue, was in fourth place on its opening weekend, taking $8.5m (£5.4m).
Underworld: Awakening, starring British actress Kate Beckinsale, dropped three places to number five, with $5.6m (£3.6m).