BBC, ITN and Sky urge PM on cameras in court law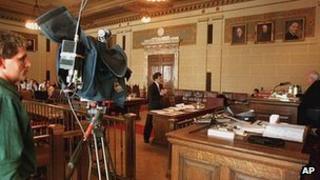 Three of the UK's biggest news providers have written to the Prime Minister urging legislation to overturn the ban on cameras in courtrooms to be included in this year's Queen's Speech.
The BBC, ITN and Sky co-signed the letter saying the change was "long-overdue reform".
The Ministry of Justice announced last September it would end the ban, but did not specify a time-scale.
Filming in English and Welsh courts has been banned since 1925.
However, Justice Secretary Kenneth Clarke said allowing cameras into courts would improve public understanding of justice.
The letter, co-signed by the BBC's director of news Helen Boaden, ITN's John Hardie and Sky's John Ryley, said it hoped "timely progress" could be made in ensuring the passing of the Bill.
"As representatives of the country's main broadcasters, we welcomed this proposal and the government's commitment to bring greater transparency to our courts," the letter said.
"For too long the UK has lagged behind much of the rest of the world on open justice. The time has come for us to catch up."
The news providers said they recognised that, even if legislation was announced within the next few months, it would still be some time before the first case would be seen on TV.
"There will have to be detailed discussions about what can be shown, and in which courts," they said.
"A great deal of work needs to be done... to ensure that the change succeeds in its chief aim of opening up courtrooms to make the judicial process more understandable and accessible."
As part of the Mr Clarke's plans, broadcasting would initially only be allowed at the Court of Appeal, with the possibility of expanding to crown courts further down the line.
Only the judge's sentencing remarks would be broadcast, rather than footage of offenders, victims, witnesses and jurors.
In response to the news providers' letter, a spokeswoman said the Ministry of Justice could not comment on what would feature in the Queen's Speech, but added: "Open justice is a long-standing and fundamental principle of our legal system.
"Justice must be done and be seen to be done if it is to command public confidence."
"The Government and judiciary are determined to improve transparency and public understanding of courts. That is why we announced in September that we are planning to remove the ban on broadcasting from courts as soon as Parliamentary time allows."