Daniel Radcliffe horror film tops UK box office chart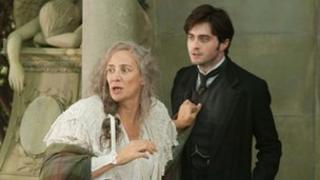 Harry Potter star Daniel Radcliffe has topped the UK box office chart again - this time with his new Hammer production The Woman in Black.
The latest adaptation of Susan Hill's novel, about a lawyer haunted by a vengeful ghost, made £3.15m in the UK and Ireland between Friday and Sunday.
That saw off main rival The Muppets, which had to settle for second place with debut weekend takings of £2.65m.
The 3D version of the first Star Wars prequel is third in this week's chart.
More than a decade on from its 1999 release, Star Wars: Episode I - The Phantom Menace took £1.52m, a figure that includes takings from one day of previews.
Romantic drama The Vow - the top film in the US and Canada over the weekend - was the fourth most popular title in the UK and Ireland.
The film, about a husband and wife whose relationship is rocked after she suffers memory loss, made £1.09m in its first three days in cinemas.
That left sci-fi fantasy Chronicle, last week's number one, at number five with a second weekend haul of £1.02m.
The Woman in Black, which opened in the US on 3 February, was released in 412 cinemas across the UK and Ireland on Friday.
Its director, James Watkins, said he was "thrilled that a British ghost story, made with a British cast, crew and investment, is playing so well with British audiences".