Whitney Houston funeral to be held at childhood church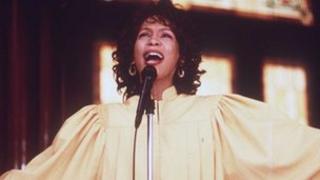 Singer Whitney Houston will be laid to rest on 18 February in the New Jersey church where she sang as a child.
According to the owner of the Whigham Funeral Home in Newark, the funeral will be held at 12:00 EST (17:00 GMT) at the city's New Hope Baptist Church.
The 48-year-old was found underwater and unconscious on Saturday in a bath at a hotel in Beverly Hills.
Her body was flown to New Jersey's Teterboro airport on Monday and driven to the funeral home in a gold hearse.
The home's owner, Carolyn Whigham, said the funeral service would be by invitation only, adding it would be a "private time" for the Houston family.
"They have shared her for 30 some years with the city, with the state, with the world," she told reporters. "This is their time now for their farewell."
Toxicology tests are under way, following an autopsy on Sunday.
The authorities say it may be up to eight weeks before they can confirm the cause of death.
No criminal probe is under way, police said, but the Los Angeles coroner said her room did contain some prescription drugs.
Prescription medicine
In a news conference on Monday, Beverly Hills police spokesman Lt Mark Rosen said fire department officials were told the singer was found unresponsive on Saturday morning.
"Ms Houston was pulled from the tub by members of her staff and hotel security was promptly notified," he said.
"First aid and CPR measures were performed in an attempt to revive her," he said, adding that after unsuccessful attempts, Houston was pronounced dead at 15:55 local time (23:55 GMT).
The police spokesman played down reports that prescription drugs might have been involved in her death.
"Our intent at Beverly Hills Police Department is not to fuel the speculation or rumours that are circulating right now," Lt Rosen said. "We can't comment on where those rumours have come from."
However, the Los Angeles coroner's office then said there were bottles of prescription medicine in the room.
"There weren't a lot of prescription bottles," said Ed Winter, the coroner's assistant chief. "You probably have just as many prescription bottles in your medicine cabinet."
Born in Newark, Whitney Houston began her singing career as a child at the New Hope Baptist Church. Her cousin, singer Dionne Warwick, also sang in its choir.
On Monday, mourners left tributes, including flowers, balloons and candles, alongside the church's fence.
"She was an inspiration to everybody,'' said Gregory Hanks, a 26-year-old actor who grew up in the area.
The White House said President Barack Obama offered his condolences.
Press secretary Jay Carney said: "I know that his thoughts and prayers are with her family, especially her daughter.
"It's a tragedy to lose somebody so talented at such a young age."
Houston was one of the world's best-selling artists and sold 170 million records worldwide.
But her later career was overshadowed by drug use and a turbulent marriage to singer Bobby Brown.
Houston was found in her hotel room just hours before she was supposed to appear at a gala before the Grammy Awards.