Royal Academy joins Wedgwood campaign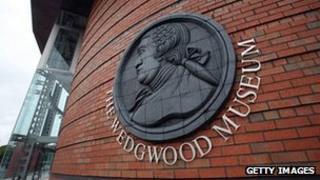 The Royal Academy has lent its weight to calls to stop the Wedgwood Museum's historic pottery collection being sold off to plug a pension deficit.
"Once dispersed, the collection could never be put together again," wrote its president Christopher Le Brun in a letter undersigned by 18 others.
Tracey Emin is among those against the sale of the collection, which includes ceramics, artefacts and archives.
Culture minister Ed Vaizey said he was "working hard" to ensure its future.
"Christopher Le Brun is right to raise concerns about the future of the Wedgwood collection," he wrote in a letter, published in the Guardian one day after Le Brun's.
"I am optimistic that the cultural world can work together to find a solution... which enables it to remain together and on public display."
'Black hole'
The historic collection's future came under threat when Waterford Wedgwood Potteries collapsed in 2009.
Its £130m pension debt was transferred to the Wedgwood Museum Trust, prompting it to go into administration.
The museum, in Barlaston, near Stoke-on-Trent, had been separate from the pottery giant for many years and remains open to visitors.
But because it was linked to the company by a shared pension fund, it inherited the financial "black hole" it left behind.
Last December a High Court judge ruled the collection could be sold by administrators.
In his letter, Christopher Le Brun called on the government to offer "advice and help as to how this collection may be saved for the nation".
The Wedgwood family, he said, had founded the museum "never believing that, without any fault of their own, the collection might be broken up".
Paintings by Joshua Reynolds and George Stubbs form part of the collection, the value of which has been put between £11m to £18m.