Whitney Houston funeral guests confirmed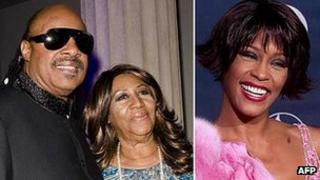 Aretha Franklin and Stevie Wonder will sing at Whitney Houston's funeral, to be held in New Jersey on Saturday.
Clive Davis, her musical mentor, will speak at the ceremony, which will include contributions from her cousin Dionne Warwick and singer Alicia Keys.
Houston's ex-husband Bobby Brown and Kevin Costner, with whom she starred in The Bodyguard, are among those who have been invited to the private service.
Police plan to block off streets around the New Hope Baptist Church in Newark.
No one without an invitation will be allowed near the building and fans have been urged to stay home.
The funeral will be shown live on US television after the Houston family agreed to have a single video camera inside the church.
The ceremony will also be streamed on the BBC News website at 12:00 EST (17:00 GMT).
Various media crews are already in place outside the church, hoping to capture footage of the guests arriving and leaving.
Songwriter Valerie Simpson, whose I'm Every Woman was covered by Houston in 1992, will also be attending the funeral.
She told CNN she hoped the day would be a celebration of the singer's talent.
"Her personal trials and tribulations have nothing to do with her artistry," she told Piers Morgan. "Her record is her music. That incredible voice."
"It had everything - it was elastic, it had meaning, it had range, it had soul, it had pop sensibility and an ability to interpret a lyric in a way that made you feel it."
'No signs of stress'
The funeral comes one week after Houston was found in her hotel bathroom in Los Angeles.
Officials are waiting for the results of toxicology tests that will help them ascertain how the 48-year-old died.
Reginald Dowdley, the late singer's make-up artist, spent three hours with her on the day before her death and said he saw "no signs of stress".
"She was warm and inviting and welcoming," he said. "She didn't seem erratic. I didn't get any of that from her at all."
Houston was one of the world's best-selling artists from the mid-1980s to the late 1990s, selling 170 million records worldwide.
Sales of her records have soared since her death was announced last Saturday.