Russell Brand to star in Eric Idle play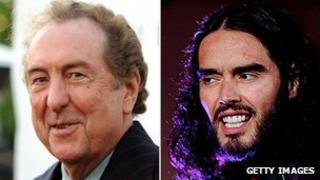 Russell Brand and Billy Connolly are among the stars set to appear in Eric Idle's new musical, What About Dick?
The comic farce, featuring songs by Idle and John Du Prez, will run for four nights at the Orpheum theatre in Los Angeles from 26 to 29 April.
Brand plays the lead role of an Oxford University undergraduate studying philosophy and gynaecology.
Tim Curry, Eddie Izzard and Tracey Ullman are also among the cast, while Idle will be the narrator.
Du Prez, who worked with Idle to produce the successful West End and Broadway show Spamalot, will play the piano.
Curry played King Arthur in the earlier musical, which was inspired by 1974's Monty Python and the Holy Grail.
Jane Leeves, best known as Daphne in Frasier, will also appear, alongside Sophie Winkleman - half-sister of Film 2012 host Claudia - and Two and a Half Men's Jim Piddock.
Idle described the musical, set in Edwardian England, as "Oscar Wilde on acid, or like Downton Abbey, only even funnier."
The Python star had been working on the script for several years before joining forces with Du Prez.