Coronation Street boss 'stands by' rape plotline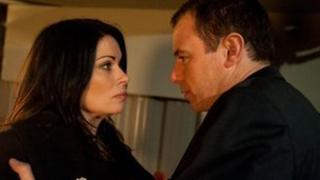 Coronation Street's producer says he "stands by" a recent rape storyline but accepts that some mistakes were made during production.
Phil Collinson was speaking at the annual conference of St Mary's Sexual Assault Referral Centre in Manchester.
He was criticised for portraying rape victim Carla Connor being confronted by her attacker outside the court.
"I do agree that there were some procedural things in the court that we did get wrong," he said.
"In a show like ours, we are constantly balancing the needs of the drama against the needs of accuracy, and I suppose I would have to agree that there were some procedural things in the court that our attention has been drawn to subsequently and I can only apologise for that.
"I have to stand by the story that we told and I think we did a good thing in the main."
The Rape Crisis helpline said it saw an 800% increase in calls after the attack - by Frank Foster on his girlfriend and business partner Carla, was aired last September.
But scenes showing Frank confronting Carla, played by Alison King, outside court had deterred some real victims from going to court, St Mary's said.
The Centre's Bernie Ryan said: "We have to put a lot of reassurance into the fact that it was a dramatisation of a courtroom event and that there are support services to make sure they don't come across the perpetrator and are supported throughout the court process."
St Mary's, which provides support and counselling to more than 1,000 people a year in Greater Manchester and Cheshire, advised both Coronation Street and Hollyoaks on elements of their recent rape storylines.
'Fiery debate'
Collinson said the ITV show also "sent out a very clear message" by unambiguously portraying Frank, played by Andrew Lancel, as a rapist.
But he admitted that an earlier assault on Maria Connor, played by Samia Smith, had divided the show's writing team.
"She dressed herself up, she absolutely went there to encourage this man to sign a contract and go into business with him. She did not go there to be sexually attacked though.
"I was astonished. Even around our conference table, a very fiery debate happened about that night - literally, some of the writers saying that it wasn't an attempted rape. I really believe that we said right from the beginning that it was."
Hollyoaks writer Sushayla Bushra also took part in the debate following the Channel 4 soap's rape storyline between Jacqui McQueen, played by Claire Cooper, and Gilly Roach, played by Anthony Quinlan, which began in February 2011.
Viewers did not see the incident and a "jury" of viewers was selected to decide the outcome of the trial. They found Gilly not guilty but he later confessed.
'Shocking' reaction
The treatment was criticised by Rape Crisis, who said the ambiguous nature of the plot "may have led a lot of women to question their own experiences".
The writers wanted to address a "grey area" in some viewers' minds over what constitutes rape, Bushra said.
"In this particular story, Jacqui was getting drunk with a boy who she knew, she went into the bedroom with him, she got undressed, and then she decided that she didn't want to go through with it," she said. "And then he raped her.
"We all agreed that this was rape, but it was quite shocking how many people on forums - not just the male viewers but the female viewers - were incredibly damning of Jacqui.
"It was very important that she did have vindication and that Gilly admitted that he did it.
"We are not broadcasting to people who are very educated and knowledgeable about this subject. We are broadcasting to young people, and it's very important that we draw attention to these things."