Jake Humphrey to present Free Speech show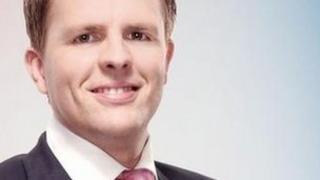 The BBC's Formula One frontman Jake Humphrey is to present a 12-part current affairs debate show aimed at younger voters.
Free Speech will run as monthly hour-long shows on BBC Three starting on Wednesday 7 March.
The show will use social networking sites throughout its broadcast.
Humphrey, who has also presented Match of the Day and Football Focus, said the show would "bring viewers closer to the decision makers than ever before".
"This show isn't afraid to ask the big questions and tackle the vital issues that are directly affecting your lives now, and just as importantly, your future," he said.
Steve Anderson, of producers Mentorn Media, said the show would capitalise on "changing patterns of viewing".
"All of the reliable research shows that most of the people classed as the target group for BBC Three watch TV while using a second screen, and most comment on a show they are viewing."
The first show in the series, which follows in the footsteps of BBC Three's Young Voters' Question Time, will be broadcast from east London.