BBC local radio 'must stay local'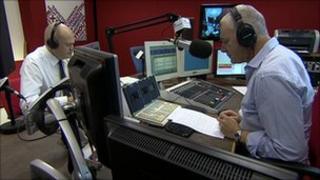 BBC local radio stations should save money by sharing managers instead of daytime DJs, a report has suggested.
Last year, BBC executives said stations would have to share some afternoon programmes to help save £15m a year.
But Radio Academy chief executive John Myers said: "Retaining a local output in daytime and weekends is paramount to the future of the local radio network."
Managing editors should oversee two or three stations each rather than running just one station, he recommended.
Myers was commissioned by the BBC to write a report to suggest how the local radio network could make savings.
The 40 English local radio stations are being asked to save money as part of a wider plan to slash 20% from the BBC's budget under the Delivering Quality First (DQF) banner.
In October, director general Mark Thompson said most stations would need to share early afternoon and some weekend programmes with neighbouring areas.
Myers said: "The DQF savings in afternoon, evening and weekend sharing and the loss of specialist programming would impact the quality and localness of the service too greatly to justify the saving."
However he did agree with the plan to introduce a single evening show broadcast on all 40 stations.
'Too many managers'
The maximum amount the network can save without affecting quality is £9m a year, Myers said. But a further £2m could be saved if the number of managing editors was cut.
"What is absolutely clear is that there are too many people with management responsibilities and that a slimmer structure is required," he said.
The BBC Trust has asked the corporation's executives to review the original savings plan.
David Holdsworth, the BBC's controller of English regions, said: "We are grateful to John Myers for his report which will inform our thinking as we consider the BBC Trust recommendations on savings to be made in BBC local radio.
"We value his endorsement of BBC local radio as an excellent service, staffed by dedicated professionals, passionate about delivering much-valued output."