James Blunt and Katherine Jenkins' Afghan gig cancelled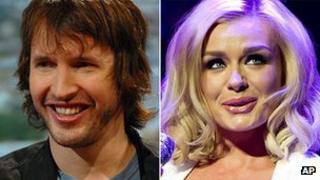 James Blunt and Katherine Jenkins have been forced to cancel performing for British troops in Afghanistan because of problems flying there.
The singers had been due to perform this week, but a malfunctioning RAF aircraft left them stranded in Cyprus.
Blunttweetedthey were just 30 minutes from the British base in Helmand province when their flight had to turn back because of a technical fault.
Discussions to re-schedule the stars' visit are under way.
"We have an air leak. It's become very cold on the aircraft. Only 30 mins short of Camp Bastion, but we're heading back to Cyprus," former army officer Blunt wrote.
Jenkinstweeted: "Sadly we tried again (to get to Afghanistan) ,but it's not going to happen. So sorry not to make it out to you but we really, really tried."
'Jinxed'
It is not the first time the two singers have tried and failed to get to Afghanistan because of transport problems. They previously had to abandon a trip to entertain the troops in December 2010 - and have separately both seen trips scuppered.
Comedian Kev Orkian was also due to perform alongside Blunt and Jenkins on the same visit, organised by the British Forces Foundation.
"I think genuinely we are a bit jinxed," said Mark Cann, chief executive of the foundation. "Clearly we've been unusually unlucky and picked the wrong flights.
"They are remarkable, all three of them. That's the reason I just wanted to weep, because they could have behaved in any way imaginable, and you would understand it, but they didn't.
"I was the bad-tempered one. They were remarkably stoical, slightly disbelieving, and frustrated.
"I'm not going to ask them again until I can absolutely guarantee I can get them there because I couldn't bear after three times each for this to happen again," he added.
Blunt, Jenkins and Orkian left RAF Brize Norton in Oxfordshire in the early hours of Monday and flew to Cyprus, via Hanover in Germany.
They took off on two different aircraft bound for Afghanistan but both times had to turn back. They returned to the UK on Wednesday.
The British Forces Foundation aims to boost the morale of servicemen and women on the frontline, primarily through quality entertainment.