Artists make time for slow festival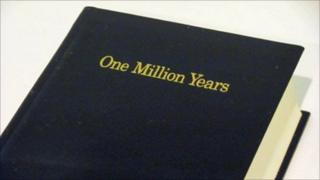 As the pace of modern life becomes ever more hectic, can slow art help us unwind? A festival of slow music, films and installations in the north-east of England hopes to show us how.
What will life be like in the 891st Century?
Will the world have been reduced to a post-apocalyptic wasteland? Or will the humans still be going strong?
If so, will we finally have those flying cars? And will Everton have won the title again yet?
These thoughts go through my head as I sit at a desk on a podium in front of a microphone, with a thick folder open at a page beginning with the date 89001 AD.
The dates of the subsequent 499 years are also on the page. Half a millennium on one page.
I am reading every other year out loud - the odd years. A companion, Lauren, a 31-year-old arts project manager, reads the even numbers.
This is a piece of performance art at the Baltic gallery in Gateshead - pairs of volunteers are reading dates, in order, for 90 minutes at a time, for two months.
The work, called One Million Years, was created by the Japanese artist On Kawara. There are 20 of these folders, which are split into two sets of a million years each - past and future - ranging from 998,031 BC to 1,001,995 AD.
"89124 AD… 89125 AD… 89126 AD… 89127 AD… 89128 AD… 89129 AD… 89130 AD…89131 AD…"
Hang on, what was the last number? Did we just skip a decade? Did I just say 89131 AD or 98131 AD?
We are told that Kawara will get an audio recording of the full two months' readings. It is unlikely that he will listen to it all but, even so, there is pressure not to mess up.
So was it relaxing? Taking part certainly was not - it required too much concentration for that.
Listening may have been, although I have a feeling that our spectators, most of whom stayed for a barely polite minute or two, did not give it a proper chance.
According to AV Festival director Rebecca Shatwell, One Million Years gives us a powerful connection with seemingly incredible periods of time.
"If you read one line of his text, it's almost an entire human lifetime, and the whole book represents one million years," she says.
"And for us to be able to comprehend that amount of time and be able to visualise it and read it just makes it tangible and real."
One Million Years is possibly the slowest part of the AV arts festival, which this year has the theme As Slow As Possible.
The inspiration comes from the radical American composer John Cage, whose musical work As Slow As Possible is being played continuously in a German church and is due to take 639 years to complete.
The festival has brought together an assortment of artworks and events that elongate time or force you to pay close attention to its passage.
"I think slowness is a really vital issue at the moment," Ms Shatwell says. "Curating a festival in a year like 2012, the festival has a slight nod to the Olympics and the speed and acceleration associated with that.
"People are in the city running from venue to venue, or in the chaos of their everyday life, and the festival is providing this alternative pace. There's a meditative rhythm within the festival and one of the main aims is to allow audiences to slow themselves down."
The events have included the UK premiere of Nightfall by US filmmaker James Benning, which takes 98 minutes to show the changing light from day to night in the Nevada Mountains.
An installation by sound artist Susan Stenger, in which seven speakers create a musical landscape of gently transforming musical notes, takes six hours to complete its cycle.
Leif Inge stretched Beethoven's 9th Symphony over a whole day, while Steven Stapleton's Sleep Concert on 23 March will last 12 hours - with fans invited to tuck up in air beds.
One of the most striking installations is US artist Jonathan Schipper's slow-motion car crash, involving an old Volkswagen Golf being forced into a gallery wall by a powerful motor at a full 7mm per hour.
When the festival started on Thursday, the car was not touching the wall. Now impact has been made, its front bumper has come loose and the bonnet is slightly raised.
The work has an addictive appeal, with people coming back every day to check its progress. By the end of the month the vehicle will, apparently, be a wreck.
Down the road at the Newbridge Project gallery, a doctored record player is playing LPs at a maximum of three revolutions per minute instead of the usual 33, 45 or 78.
When slowly spun on the Slowplayer Soundsystem, Charles Mingus's Oh Yeah becomes a series of elemental groans, Nirvana's Bleach is all terrifying howls and thunderclaps, while Julie Andrews singing My Favourite Things suddenly sounds like a walrus in mating season.
"You go way beyond the point where something is recognisable, deep into abstraction, and the sound becomes very transformed," says Jem Finer, a member of the band The Pogues and the man behind Slowplayer.
"The act of slowing things down so much actually gives you a chance to look around," he adds.
"When things go past real fast, you're in the flow and that's it. When you slow things down, it's like going for a walk. You look around at these features."
But isn't there a risk that slow will just mean boring?
"It could," Ms Shatwell responds. "But I think maybe boredom isn't a negative thing either.
"Actually, you could just see boredom as an in-between space, as a potential space. In the state of being bored, your mind is free to think of new things."
The AV Festival continues at venues in Newcastle, Gateshead, Sunderland and Middlesbrough until the end of March. One Million Years is being staged until the end of April.