Lucian Freud show at the Portrait Gallery to extend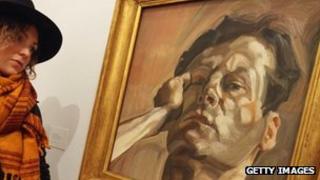 The National Portrait Gallery in London is extending its opening hours to allow an extra 7,000 visitors to see its Lucian Freud exhibition.
The exhibition has already welcomed 50,000 to the retrospective since it opened at the beginning of February.
To accommodate the extra numbers, the gallery will open until 2100 GMT on Saturdays until May.
Considered one of Britain's foremost portrait artists, Freud died in July 2011 at the age of 88.
The exhibition features more than 100 works painted over his lifetime, including pictures of family members, friends and muses.
His paintings have fetched millions at auction, with a portrait of a nude lying on sofa going for $33.6m (£20.6m) in 2008 - then a world record for a work by a living artist.