Davy Jones: Family bid final farewell in Manchester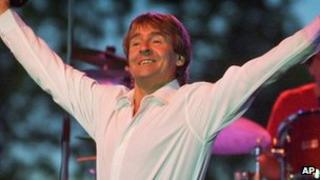 The family of Monkees star Davy Jones have held a private memorial service in his birthplace of Manchester.
The service took place on Sunday at Lees Street Congregational Church in the Openshaw area, where Jones performed as a child in church plays.
Jones' wife and daughters travelled to join his British-based relatives after his funeral in Florida last week.
His niece Beverley Barber said: "We had a beautiful service, and a wonderful celebration of his life, as a family."
The actor and singer died from a heart attack at the end of February at his home in Florida. He moved from Manchester to the US in the mid-1960s.
Mrs Barber said the family wanted the service to be private, but added that a public event could be staged in the US or UK in the future.
"We needed a little bit of time on our own," she said. "From a family perspective we've said our goodbye.
"We managed to keep it very private and very personal. All his family together in one room. He'd have been thrilled to bits to see that."
Jones' wife Jessica took his ashes to Manchester, Mrs Barber added.
"He came home to Manchester," she said. "His ashes weren't scattered in Manchester although they were placed on his parents' grave for a little while."
The Monkees, often described as the first manufactured pop band, were put together in 1966 for a TV series which became hugely popular in the US and the UK.
They went on to have four number one US albums within a 13-month period.