Dame Edna creator Barry Humphries plans farewell tour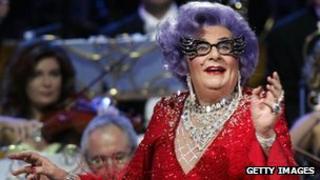 Dame Edna Everage is to go on one final tour after the colourful character's creator Barry Humphries said he was retiring from the stage.
"Edna will crop up on television I guess but not in a live show," the 78-year-old comedian told Australia'sSunday Telegraphnewspaper.
"The fact of the matter is that I'm beginning to feel a bit senior."
Humphries will take Dame Edna on a farewell tour of Australia and New Zealand between June and August.
"It's the best aerobics you could do, leaping around on stage, but it's gruelling when there are other things to do," he said.
"I've got a contract to write another book, there are places I want to go, things I want to do [including] more painting."
Humphries recalled being taken as a child to see performers who had "outlived their shelf life".
"It was commented that 'you should have seen him when he was funny'. I want to avoid that being said about me and know that I can't keep doing it," he said.
Humphries created Dame Edna in 1955 and the ostentatious Melbourne housewife became famous for her gaudy purple hair, outrageous glasses and over-sized ego.
She hosted a TV chat show in the UK in the late 1980s and had gained fame in the US by the 1990s. Her 2000 Royal Tour on Broadway in New York earned Humphries a Tony Award.
The forthcoming tour, titled Eat Pray Laugh, will also feature Humphries' other successful character, Sir Les Patterson.
Humphries was made a CBE in 2007 and he was cast last summer to play the evil Goblin King in Peter Jackson's big-budget film of The Hobbit.