Hangover III will be the last, says director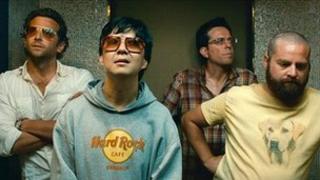 The third instalment of The Hangover films will be the last, its director has said.
Todd Phillips said the film would see the return of original cast members Bradley Cooper, Ed Helms, Zach Galafianakis and Justin Bartha.
The director said the film, due out in cinemas in May 2013, would "surprise a lot of people".
"It will be a fitting conclusion to our three-part opera of mayhem, despair and bad decisions," he said in a statement.
Phillips is writing the screenplay with Craig Mazin, who also collaborated with him on the script for the second Hangover film, but he gave no indication of where it will be set.
Production on the film is expected to begin in September 2012.
Warner Bros president Jeff Robinov said: "We are extremely pleased to have Todd Phillips and the guys back together again for another Hangover and we look forward to collaborating with them on another great movie."
The first instalment of the franchise was a surprise box office hit when it was released in 2009, grossing $467.5m (£294.6m) worldwide, while last year's sequel made $581.5m (£366.5m).