Tate Britain: Patrick Keiller art show considers economic woes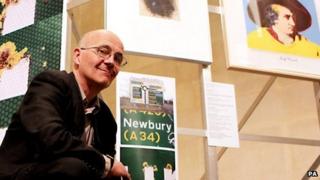 What connects Andy Warhol, a crashed meteorite, an 18th century parliamentary statute and 1950s sci-fi classic Quatermass 2?
The answer lies within the Tate Britain's newest commission from artist and film-maker Patrick Keiller which was unveiled on Monday.
The exhibition, entitled The Robinson Institute, brings together a diverse - and often surreal - collection of artworks and objects from across several centuries.
Its purpose, according to Tate curator Katharine Stout, is to chart the origins of the current economic crisis.
"What lies at the heart of The Robinson Institute is that economic and political aspects of the current global predicament can be seen written into the UK's landscape," she said.
Keiller himself describes the commission as a "homecoming" after 30 years. His first exhibition was at the Tate in 1982.
Blackpool-born Keiller is best known for his films in which his fictional creation - an elusive scholar named Robinson - wanders the English landscape and records his chance encounters on an old cine camera.
The films include London (1994), Robinson in Space (1997) and Robinson in Ruins (2010).
It is the latter work that has inspired the new exhibition in Tate Britain's neoclassical Duveen Galleries.
The set-up is this: Keiller's fictional protagonist is said to have "disappeared", leaving behind a box of films and a notebook in a derelict caravan.
Using the "found footage", researchers at The Robinson Institute have put together an installation of more than 120 works.
Robinson's images are shown alongside other artworks, mainly from the Tate's own collections, as well as works by historians, geographers, cartographers and geologists.
"I'm not that interested in films to be perfectly honest. It's just a way of putting a lot of things together," Keiller told the BBC at the unveiling.
"These are not conventional films, so the audience is quite small. And even when it isn't small it's not like the audience for other films, so one always feels one is in the wrong place," he admitted.
"But here at the Tate I don't feel I'm in the wrong place. This is the first place I ever exhibited.
"It feels like coming home, which is quite funny given that the theme of the project that led to this was one of displacement."
One unusual pairing alongside Keiller's works is a meteorite that fell in Yorkshire in 1795 and a parliamentary amendment - dating from the same year - concerning the mobility of poor rural workers.
Keiller credits the Tate's team with managing to secure rarely-seen items like the parliamentary scroll, handwritten on animal skin.
"Left to my own devices I don't suppose I'd have got any of these things," he said.
Other works in the collection include paintings and prints by JMW Turner and Andy Warhol, as well as works of film and literature that include Beatrix Potter and clips from the Hammer's sci-fi horror Quatermass 2.
Curator Katharine Stout noted that Keiller's use of the Robinson alter-ego allowed him to be more "playful and say things that might appear too didactic if it was a first person narrator".
Keiller himself sums up the experience for the casual visitor in blunter terms.
"What they are going to see is a succession of ideas which leads to a conclusion - and the conclusion is that we must rise up against our rulers," he said.
Patrick Keiller: The Robinson Institute is at Tate Britain 27 March - 14 October